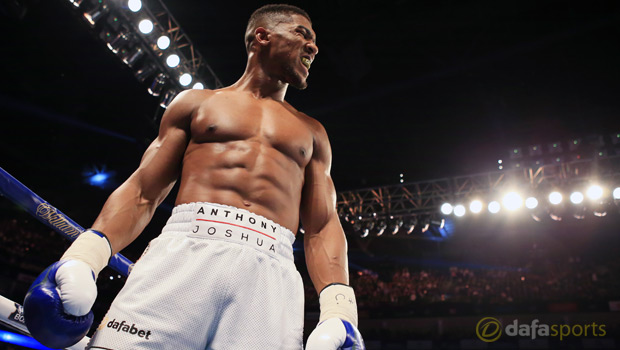 Anthony Joshua has promised to "walk through" Tyson Fury after he beat Charles Martin to win the IBF world heavyweight title on Saturday night.
Joshua produced an explosive performance against a disappointing Martin at the 02 Arena to win a world title in just his 16th professional fight.
The two heavyweights failed to make an impact during the first round but Joshua needed just one minute and 32 seconds of the second to finish his opponent.
Two lazy jabs from Martin were countered by Joshua and the American was sent to the canvas on two occasions.
The referee eventually stopped the fight and Joshua is adamant he will clean up the division when the time is right.
Joshua told the BBC: "The promoters are going to do their promoting, the fighters are going to do their fighting and the public are going to do their talking and I'm going to keep on walking.
"I'm going to walk through Tyson Fury when's he's ready. I'm not messing around believe you me.
"Scrap all this 16 fight nonsense. I'm training hard and I mean business. I'm here to stay and I want to make some real noise in this division.
"That's what I'm here to do. I'm young, I'm fresh and honestly I'm looking forward to getting back in the gym.
"I have got skill. I'm not just some beach body boxer. I train hard and this is just the results. IBF champion and I'm very, very happy.
I'm happy for the UK as well."
Leave a comment