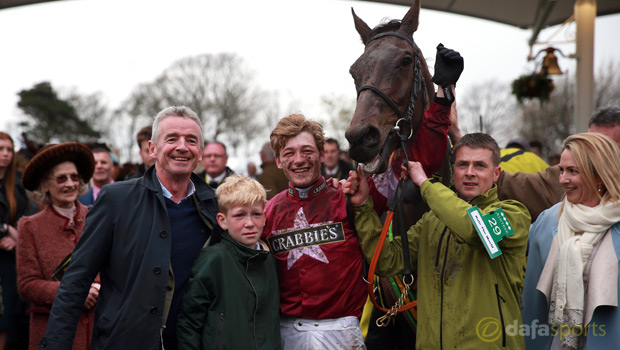 Owner Michael O'Leary has confirmed that Rule The World may be retired following his win in Saturday's Crabbie's Grand National at Aintree.
The nine-year-old was expected to deliver big things after winning four of his first seven races. However, the bay gelding has been plagued by multiple injuries so far in his career.
He has fractured his pelvis on two occasions but trainer Mouse Morris never gave up on him and finally got his reward. The 65-year-old was very emotional as Rule The World won over fences for the first time under young jockey David Mullins.
He handled the difficult conditions to power up the home straight at Aintree and Morris admitted that they would consider their options before making their next move.
However, owner O'Leary has since hinted that he may send the horse into retirement.
"He got out of the box, had a roll in the sandpit and then went straight over to his food and had a good eat – he really does look not to have a care in the world and he travelled home really well with his two grooms," he told BBC Radio 5 Live.
"I'll talk to Mouse but I think I'd like to retire him this summer. He certainly won't race again this season. He has done everything he can for Gigginstown. Considering the problems he has had, it was an amazing performance and I still can't really believe it.
"The Cheltenham Gold Cup is the championship of steeplechasing, but if there's one race a year that everybody watches it's the Grand National
– it's the race that stops the nation, in Britain and Ireland anyway.
It's the race that most people first watched, that got them into the sport, and to win it was an amazing feeling. I'm still hoarse this morning."
Leave a comment