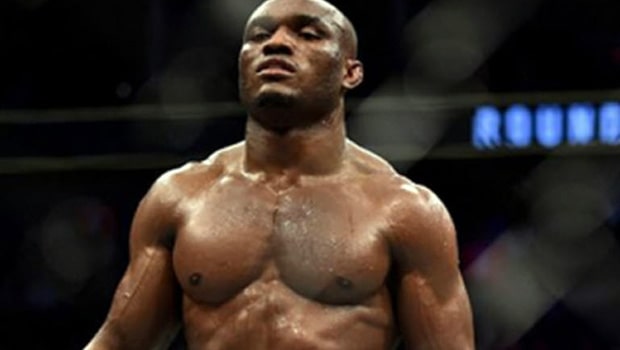 UFC Welterweight champion, Kamaru Usman, made another successful title defence on Saturday night at UFC 258 after defeating Gilbert Burns in the third round of the fight by a technical knockout.
The Nigerian Nightmare stepped into the ring again for the first time in 8 months after he defeated Jorge Masvidal back in July 2020. This is Usman's third successful title defence as he has now won 13 straight fights, surpassing the record once held by Georges St-Pierre in the welterweight division.
The first round began with Burns doing the most and was quick to drop Usman with an overhand. Burns continued to charge until he was on his back. Usman tried to take advantage of the situation by landing some punches of his but Burns was quick to land on his feet again. Burns continued to land jabs while Usman tried with the kicks. Burns held his ground till the round came to an end.
Round two followed a similar pattern, except that Usman was more offensive, landing jabs and sinking a right hook less than a minute into the round. The two men now matched each other blow for blow, countering jabs with jabs. At a point in the round, Usman tried to reach for a takedown but was denied the chance. More jabs and shots from the two fighters. Usman was finally able to drop Burns with a jab as the other man tried to land a kick. He also managed to land another kick before the round came to an end.
Usman began the third round with a southpaw in the first few seconds that dropped Burns. He then got on the floor and landed some more hits till the referee intervened. The fight came to an end in 0.34 seconds of the third round.
After the fight, Usman was satisfied that he had proved his naysayers wrong, following his last year's defeat against Masvidal. He also called for a rematch, stating that this time, Masvidal would not have any excuse. Masvidal stepped into the ring some days to UFC 251 and could use the excuse that he did not get the chance to train enough. But now, Usman said, "The only reason he took that fight is because it was on six days' notice and he had a built-in excuse. I'll give you a whole training camp. I guarantee you won't sign on that dotted line because this time I'll finish your ass. Anyone of these fools can get it, any one of them. But he keeps running his mouth. If he's gonna talk, step in there and see me."
Leave a comment