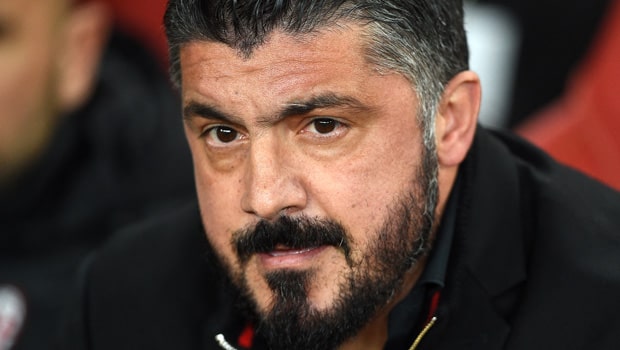 Napoli coach Gennaro Gattuso remained confident that his team was always behind him.
Speaking after the 1-0 victory over Juventus over the weekend, the former Italian international couldn't hide his excitement as Napoli recorded back to back win over the Old Lady for the first time in a long years.
The Azzurri won the tie courtesy of Lorenzo Insigne's penalty. The Bianconerri could have equalized from the game, but they were stopped from Alex Meret's saves, who came on after David Ospina sustained an injury in the warm-up.
Napoli suffered another blow in their attacking line up after Chucky Lozano finished the game with muscular problems.
In a show of support for the gaffer, the players at the final whistle all clambered onto their coach.
Gattuso has been under fire lately. The media reports said he had been given two games against Atalanta and Juventus to prove his worth by the club owner, Aurelio De Laurentiis. Fortunately, he won both games.
Meanwhile, Italian news media reports that De Laurentiis sent a congratulatory message to Gattuso after the victory against Juventus.
The newspaper reported that the club's president sent a sign of peace to his coach after recording a back-to-back win against Atalanta and the Old Lady.
He was reportedly also at risk of being shown the exit door if he had lost against Juventus because De Laurentiis had reportedly contacted former Chelsea boss Rafa Benitez. He was also considering Vincenzo Italiano, Ivan Juric, and Roberto De Zerbi as Gattuso's replacement.
The media also reported that De Laurentiis congratulated Napoli players and Gattuso in the locker room after the final whistle and shook the coach's hand. This could have cleared the air with the Italy world cup winner.
After the win, Gattuso had immediately said he never doubted his team, adding that he would have packed his bag and go home if he had not.
Leave a comment