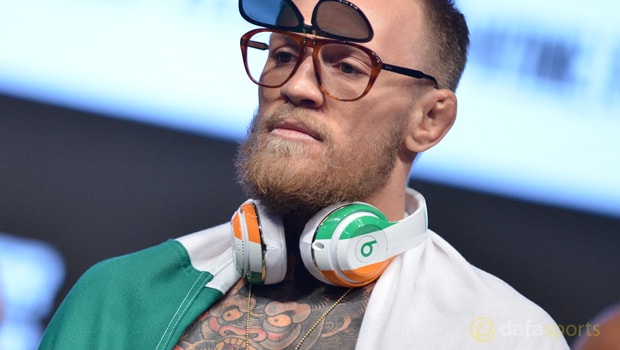 UFC president Dana White has confirmed Conor McGregor may have to vacate his lightweight title if he does not fight one of his rivals in the near future.
'Notorious' has not fought in the octagon since beating Eddie Alvarez to claim the lightweight championship at UFC 205 in November 2016, although he did of course take on Floyd Mayweather Jr. in last year's well documented boxing bout.
McGregor reportedly does not want to return to MMA until later in 2018, but with the likes of interim lightweight champion Tony Ferguson and highly-rated challenger Khabib Nurmagomedov chomping at the bit to take his title, the Irishman may have to return sooner than he would like.
That is certainly the opinion of White, who admitted McGregor may have to vacate his title if he does not want to fight over the next few months.
"When you're a professional athlete, time is your enemy, and we can't let this thing go on forever and not give other guys the opportunity," White said.
"Tony Ferguson has been around for a long time and has earned his dues, Khabib has earned his dues, and the list goes on and on.
"So, Conor has done very well, he's made a lot of money, and if he decides that he doesn't want to fight again for another, however long, that's up to him.
That's his choice and his decision. But the belt has to move on, so we've gotta figure some stuff out about him in the next couple of months."
White believes McGregor should ideally be looking to return to the octagon by March, while the president also speculated Ferguson and Nurmagomedov could face off to decide who will take on the 29-year-old.
"As long as Conor is willing to (book a) fight by March, we could do Khabib versus Tony," White added.
"We could do Khabib versus Tony, and then the winner fights Conor for the title."
Leave a comment