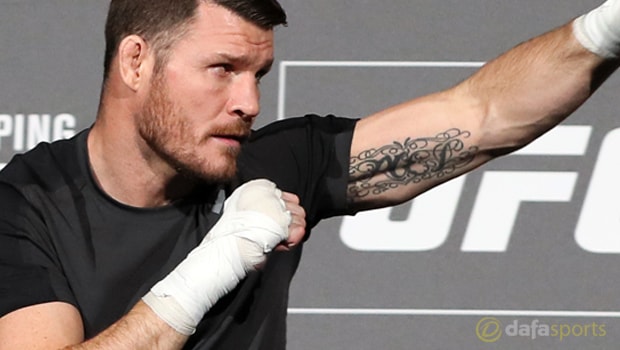 UFC middleweight champion Michael Bisping insists he is going to enjoy making Georges St-Pierre quit when they clash in New York on November 4.
The duo have been involved in a war of words for almost a year and they will finally get to face off in just over a month.
GSP has not fought since beating Johny Hendricks via a split decision at UFC 167 in November 2013 and there are major questions about how he will cope after such a long absence from the ocatagon.
Meanwhile, Bisping could also be a bit rusty following almost a year since he was last in action, beating Dan Henderson in Manchester to successfully defend his title.
UFC president Dana White announced that Bisping was set to face GSP in March 2017 but the fight was then cancelled in May when the latter revealed he needed more time to make the 185 pound weight.
There is certainly no love lost between the pair and St-Pierre recently admitted that he wouldn't mind losing as long as he can claim a big payday.
However, Bisping says that is not something that concerns him and insists he is relishing the opportunity to make his opponent tap out.
Bisping took to Instagram to mock GSP and posted this caption along with a picture of his bloodied face: "While filming promo stuff for UFC 217 Georges St-Pierre said I don't mind losing if I make money.
"Georges — you are even more stupid than you sound. Does this look like the face of a man that's happy to lose? I'm gonna really enjoy making you quit!"
Leave a comment