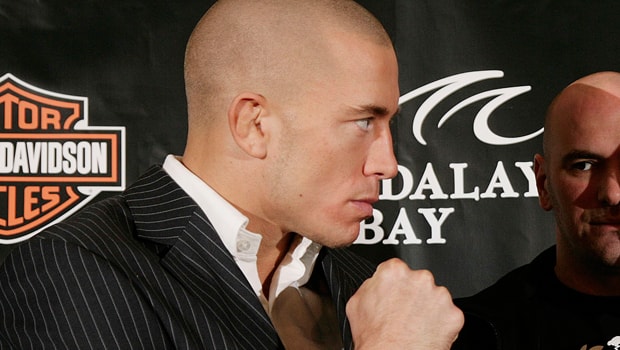 Georges St-Pierre says he would be open to taking on the winner of the upcoming UFC 229 main event between lightweight champion Khabib Nurmagomedov and Conor McGregor.
Nurmagomedov and McGregor will go head-to-head in a grudge match on October 6 at the T-Mobile Arena in Paradise, Nevada, and discussions are already taking place as to who the victor will take on afterwards.
Canadian St-Pierre, who has been on hiatus since December last year when he vacated his Middleweight Championship title due to medical complications from ulcerative colitis, has thrown his name into the hat for a potential fight in the Octagon.
The 37-year-old, who is also a three-time former UFC Welterweight Champion, says he would be more than happy to take on either fighter although he doesn't believe he will be presented with the opportunity.
"I would be interested in that fight," he told Submission Radio on Monday.
"That's a win-win situation. It's a legacy upgrade and it's good money, it's going to be a good fight.
"However, I fought at 170 [pounds] and I relinquished the title, I fought at 185 and I relinquished the title, I don't think the UFC will let me fight for the title at 155.
"They will be afraid I will relinquish and I left the division in ruins."
Whether St-Pierre gets the bout or not, he did say he might be willing to fight as early as November or potentially in December when the UFC returns to Toronto for UFC 231.
Asked specifically about who he thinks will win between Nurmagomedov and McGregor, GSP swayed towards the Russian.
"If I have to bet, if I have to put my house on it, I would have to choose Khabib over Conor," he added. "Khabib has never lost."
Leave a comment