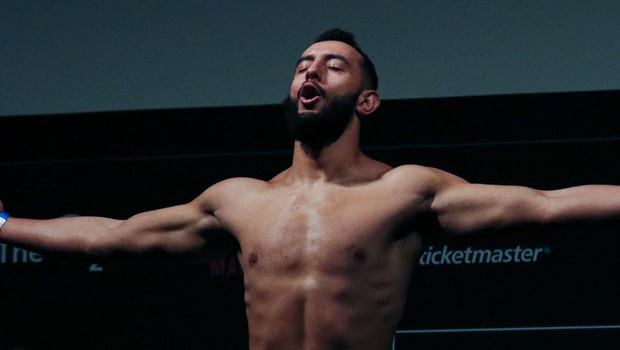 This Saturday the UFC will give us a very entertaining light heavyweight fight between Dominick Reyes and Jiri Prochazka. According to many, including himself, Dominick Reyes should already be the UFC light heavyweight champion, since he came as close to beating Jon Jones than any other fighter in recent history. After losing a dramatic unanimous decision not everyone agreed with at UFC 247 on February 8th, 2020, 'The Devastator' tried to reclaim what he believed was his but Jan Blachowicz stopped him in the second round at UFC 253 on September 26th.
A former footballer, Dominik Reyes is no stranger to athletic competition but his small 14-fight professional MMA career confuses casual fans as to why he's already fought for a title two times. He has a chance to prove the UFC right on Saturday and there's a reason why he holds the nickname 'The Devastator.' It is not often that he fights past five minutes and with only two losses on his record (only one by TKO) you can figure out the rest.
Born: December 26th, 1989
Age: 31
Country: United States
Height: 6'4″
Weight: 205 lbs
Reach: 77″
Stance: Southpaw
Association: Cage Combat Academy
Class: Light Heavyweight
Record: 12-2
Signing Jiri Prochazka was a no-brainer for the UFC, considering the talent that the decorated martial artist displayed in other promotions. Prochazka trained Muay Thai as a teenager in the Czech Republic and became a national world champion, so his transition to MMA was not surprising.
A former Rizin Fighting Federation light heavyweight champion, Prochazka obliterated the competition for over eight years before stopping Volkan Oezdemir in the second round in his debut with Dana White's company at UFC 251 on July 11th.
Born: October 14th, 1992
Age: 28
Country: Czech Republic
Height: 6'4″
Weight: 205 lbs
Reach: 80″
Stance: Orthodox
Association: Jetsaam Gym Brno
Class: Light Heavyweight
Record: 27-3-1
Reyes has less martial arts experience but don't underestimate him, he has a chance if he makes this fight a grappling war, drains Prochazka and seeks out a potential ground and pound situation.
Leave a comment