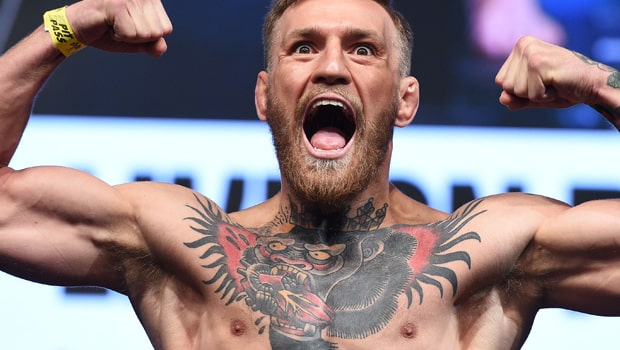 Conor McGregor remains bullish that he'll make a winning return to UFC when he faces Khabib Nurmagomedov next month.
The controversial Irishman will return to the octagon for the first time in almost two years at UFC 229 on October 6.
Standing opposite will be the man that succeeded him as UFC lightweight champion, the undefeated Nurmagomedov. McGregor has no doubts in his mind that he will end that sequence.
"I came back for the love of this, to come and shut this man up," said McGregor at a news conference with his opponent.
"I've seen this man wobble many times. I know he's afraid of a smack. And if you're afraid of a smack off me, a smack will feel like a double-barrel shot gun. "But I have been wrong before. I will be prepared for five rounds."
McGregor hasn't fought since his mega-money boxing bout with Floyd Mayweather last year. His Russian opponent taunted him that he'll be back boxing after they clash.
"I'm going to maul you. After this fight he is going to go back to boxing," said Nurmagomedov.
"You come for money, I come for legacy."
While McGregor was no match for the undefeated Mayweather in the boxing ring, he feels he has learned from that fight and would be able to demonstrate that when he climbs back inside the familiar surrounds of the octagon.
"It was a great boxing match. At 30 minutes, it was my longest contest," he said.
"I learned some things of course. With every fight, you learn and grow. I was very happy with the experience as a whole and, of course, you'll see on October 6 the lessons I have learned."
McGregor is the underdog at 2.20, while Nurmagomedov is 1.67 to remain unbeaten.
Leave a comment