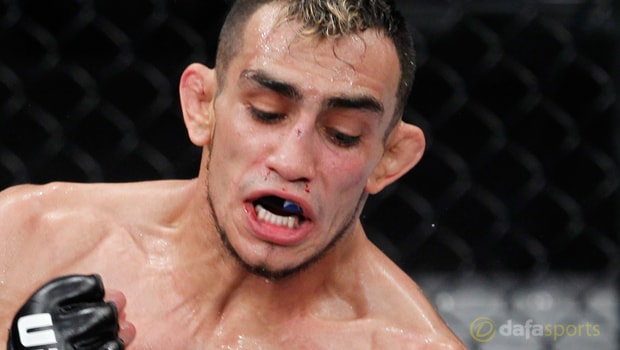 UFC interim Lightweight champion Tony Ferguson insists he should not be stripped of his title after being forced to withdraw from his fight with Khabib Nurmagomedov through injury.
The American picked up a knee problem last week while reportedly appearing at a media event for his bout with Nurmagomedov – a fight that had been scheduled to headline UFC 223 in New York this weekend.
It is the fourth time a proposed fight between the two men has been called off and UFC President Dana White has now gone on record to say that he will no longer be looking to reschedule the contest.
Nurmagomedov will instead fight Max Holloway on Saturday, with White indicating that the winner of that bout will claim the lightweight title.
This is news to Ferguson, however, who feels he should not be stripped of his title because of a 'freak injury' that was out of his control.
"My team and I haven't spoken to UFC about what's next, but when I saw that (White's statement) in an interview it shocked me and it hurt me even more for something I couldn't control with this injury.
"This all started snowballing this weekend. UFC hasn't told me about my title going away and I don't think it will go away.
They shouldn't strip a champion due to a freak injury that happened during a UFC media obligated event."
It remains to be seen if Ferguson will retain his title or if the winner of Saturday's bout will be crowned the new lightweight champion on either an interim or an official basis.
Leave a comment