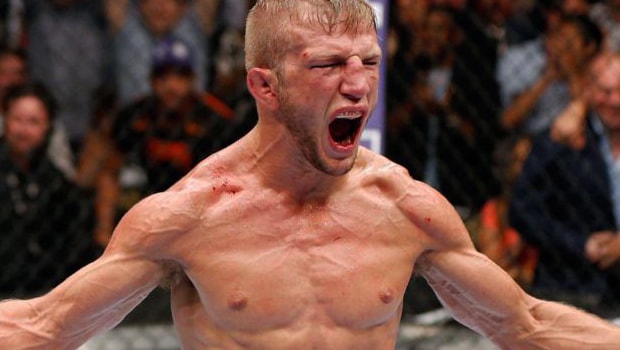 T.J. Dillashaw has revealed Demetrious Johnson has addressed a potential fight between the pair with further discussions expected to take place in the near future.
Dillashaw first challenged Johnson to a bout this past summer after Coady Garbrandt withdrew from UFC 213's main event with a back injury and UFC president Dana White gave his full backing.
However, Flyweight champion 'Mighty Mouse' stayed clear of the fight, citing various grievances with the UFC and also the lack of experience his proposed opponent had in the division.
But, it appears the pair could go head-to-head in a rare champion vs champion super-fight down at 125 pounds after Dillashaw defeated Garbrandt last time out to win the Bantamweight belt.
The 31-year-old Californian, whose record stands at 16-3-0, says he is actively pursuing a match and even revealed his compatriot spoke to him at UFC 217 recently.
"He came by when I was taking photos with the belt (at UFC 217 ) and he said that I did the first step," he said on The MMA Hour.
"So in my mind, that's him saying, 'Let's get this on.' I did the first step, because he said to the media that I wasn't worthy of a title shot, that I needed to be a champion, that he wasn't going to fight me because I wasn't a champion.
And he came by and said that I did the first step, so I think in his mind too, this is the fight that makes sense."
Whilst this may be good news for Dillashaw, it will come as a huge blow to Jimmie Rivera who recently spoke of his frustration at having to wait to fight the Bantamweight champion.
Leave a comment