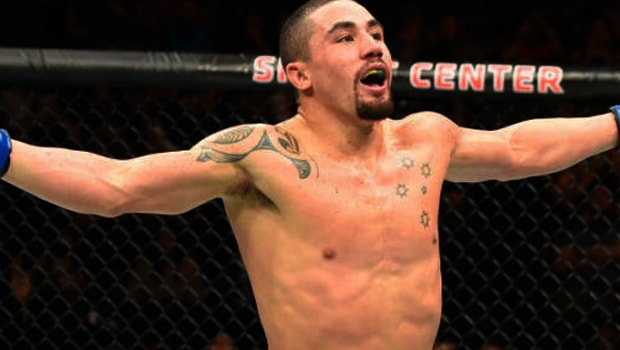 Australia's Rob Whittaker believes he deserves a shot at Michael Bisping's middleweight title following his stoppage of Ronaldo Souza.
The 26-year-old has made a big impact on the middleweight division since his UFC debut in 2012 when he beat Brad Scott via a unanimous decision.
The Australian has won nine of his 11 trips to the Octagon and Saturday's victory over the veteran Souza made it seven wins on the bounce.
Whittaker was regarded as the underdog for the bout in Kansas City but claimed a $50,000 bonus for his performance of the night.
The middleweight stunned Souza with a right hand 30 seconds into the third round before landing a high kick, finishing off with a barrage of punches.
'Bobby Knuckles' is now eyeing a meeting with middleweight champion Bisping, who he feels owes him a match after the Brit pulled out of an arranged fight in November 2015.
Whittaker said: "Right now, he's doing his own thing and that's cool. But he owes me. I want a shot at that middleweight title and I think I deserve it.
"This win, it's a real eye-opener for not only the middleweight division but maybe a few other people on the MMA scene as well.
I like being the underdog. I enjoy it. But I knew eventually people would realise I'm legitimate."
Bisping has already agreed to take on George St-Pierre but the pair are yet to agree on a date and Whittaker will likely have to find someone to face in the meantime.
Second-ranked Yoel Romero has been mentioned as a potential candidate as Whittaker looks to further prove his credentials, while former champion Luke Rockhold is also understood to be interested.
He added: "That's a discussion I'll have with my corners and stuff but I'm on my title run.
"I'm on my run and I want that belt. Bisping owes me a fight but if he's tied up, or if he loses it, or whatever, I want that belt. Wherever it goes, I want it."
Leave a comment