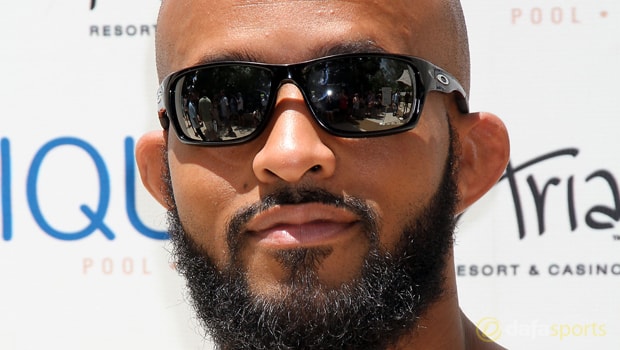 Flyweight champion Demetrious Johnson says he doesn't fear anyone in the UFC and is ready to take on Conor McGregor as he looks to secure the biggest payday of his career.
The 30-year-old proved his credentials as the best pound-for-pound fighter in the UFC on Saturday as he locked in an armbar and submitted Wilson Reis in Kansas City.
Johnson has now defended his title successfully on 10 occasions and Saturday's victory puts him level with Brazilian Anderson Silva for the longest title defence streak.
The American has only lost twice in his entire MMA career and he believes he has the right to demand a fight with anyone on the roster.
'Mighty Mouse' has made no secret of his desire to go toe-to-toe with lightweight champion McGregor and insists he would be happy to step up in weight to meet the Irishman.
McGregor is currently taking some time off as talks over a super-fight with former five-division boxing world champion Floyd Mayweather continue.
However, Johnson is eager to pick up the biggest payday of his career to date and feels that lies with McGregor.
Johnson said: "Nowadays, everybody's talking about big money fights, right. "I am not afraid of one man in this whole UFC Octagon roster.
"I truly don't care. What's going to happen to me? I lose? I get knocked out? "A lot of people are coming…'Ooh, fight him, he's scared', I'm like, 'Dude. I will f*****g fight Conor McGregor for the biggest payday of my life.
"If I got knocked out, perfect. "Thanks, Conor. You weigh 170 pounds, but guess what? I'm just going to be laughing all the way to the bank.
"But if you ask me who would I like to fight, and I know I'm going to make the most money, I'll fight Conor McGregor."
Leave a comment