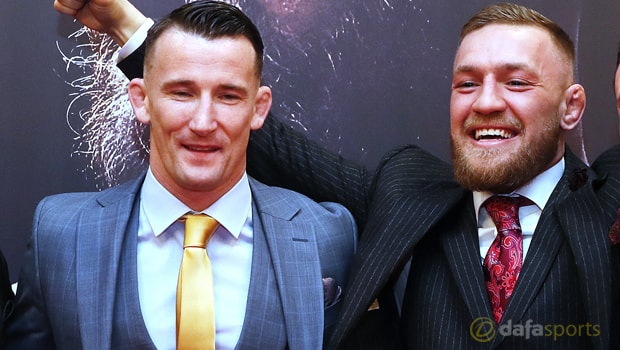 Conor McGregor's striking coach Owen Roddy has hinted that the Irishman could line up against Georges St-Pierre if the fans get behind it.
The Notorious has been absent from the UFC since beating Eddie Alvarez to claim the Lightweight title in November 2016.
McGregor took advantage of his global reputation and explored other avenues – going toe-to-toe with undefeated boxer Floyd Mayweather in a massively lucrative PPV event.
The 29-year-old is now back in training and looking for a return to the Octagon with many suggesting that he could take on veteran submission specialist St-Pierre.
The French-Canadian previously played down rumours of the pair locking horns but McGregor's coach Roddy feels the fight could happen if the public show enough desire to see them lock horns, while he insists that McGregor doesn't fear any fighter.
Roddy told Submission Radio: "I'd be confident in saying that Conor is the biggest pay-per-view draw between him and GSP, but it would be an insane fight, it would be a crazy fight, it would be huge.
"It would be probably the biggest fight that the UFC has thrown, and yeah, it would be great.
"I'm sure if the money was right for Conor and obviously Georges that would be amazing as well. For the 155 belt, it would be an insane story.
"I think whatever the fans kick off for the most and whatever the fans rally behind, that's the fight that would happen.
"He's [Connor] not afraid to defend any belt, he's not afraid to fight anybody, but he wants to fight the biggest fights possible."
Leave a comment