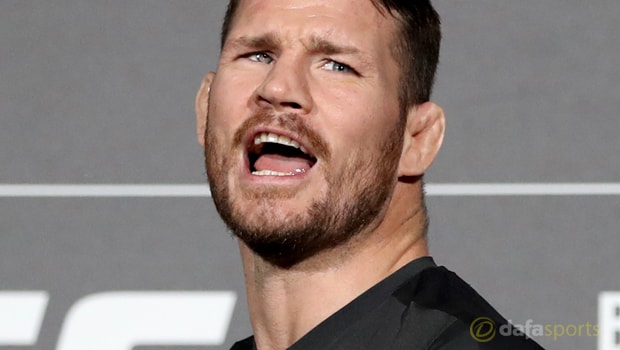 Michael Bisping admits a fight with Lyoto Machida would be a fitting way to bring his MMA career to a close.
The former UFC Middleweight champion has been flirting with the idea of retirement since suffering back-to-back losses against Georges St-Pierre and Kelvin Gastelum at the end of 2017, but it is believed he is eyeing one more bout at UFC Fight Night 127 in London next month.
No details have been put in place regarding that possibility, but Light Heavyweight champion Machida confirmed after his split-decision victory over Eryk Anders last weekend that he would like to take on Bisping in what would also potentially be one of his last professional fights.
Bisping has now responded to Machida's call out by admitting he would be interested in taking on the Brazilian fighter.
"I've no problem with the decision," Bisping told his podcast 'Believe You Me'.
"What I do have a problem with is what Machida said afterwards. I'm only joking, I don't really have a problem with it. He called me out, once again.
"He just said we were supposed to fight a couple of times over the years and that it hadn't happened and that basically he had a lot of respect for me. And I have a lot of respect for Machida, I really do."
However, the Brit conceded that a potential bout with Machida, or any other fighter, is still a long way from being agreed, as he must first speak to UFC president Dana White "As of right now I've got to speak to the UFC and figure out what's going on for myself so I'm not considering opponents or who they are" Bisping added.
"I've got to speak with Dana and the UFC guys and figure out what's next and what's happening in life."
Leave a comment