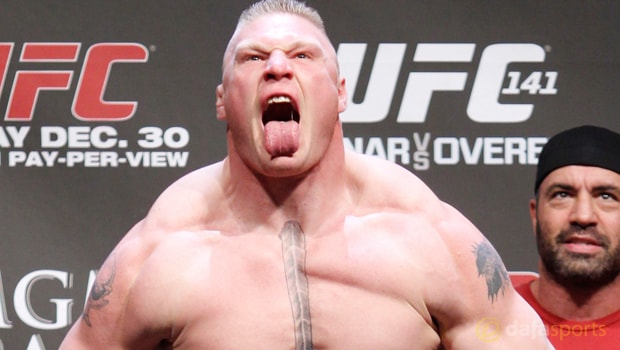 Current WWE star Brock Lesnar has told Jon Jones to be careful what he wishes for after the latter called out his fellow American for a potential UFC super-fight.
Lesnar is the reigning Universal Champion in WWE and will defend his title in a Fatal 4-way match against Samoa Joe, Roman Reigns and Braun Strowman at SummerSlam.
It has been confirmed that the American, whose contract with the franchise expires next year, will leave WWE if he fails to retain his belt at the blockbuster event on August 20.
Reports had suggested the 40-year-old was considering a return to UFC before the recent revelations on RAW and defeat at SummerSlam strengthened the rumours.
Jones, who became light-heavyweight champion last weekend after beating Daniel Cormier at UFC 21, has now added to the speculation after calling out Lesnar.
The 30-year-old from New York is eager to make the step up to heavyweight and take on the former champion, who won five of his nine mixed martial arts fights.
Lesnar, who is the only person in history to win a championship in the WWE, UFC, NJPW and the NCAA, responded to Jones' comments, issuing a short statement that said: "Be careful what you wish for, young man."
The WWE star officially retired, for a second time, from MMA after a failed drug test following his win against Mark Hunt at UFC 200 last year, but he could be tempted into a sensational return.
Unbeaten boxer Floyd Mayweather recently came out of retirement after accepting a fight with UFC's Conor McGregor and the lure of a big-money showdown could see Lesnar go face-to-face with Jones.
Leave a comment