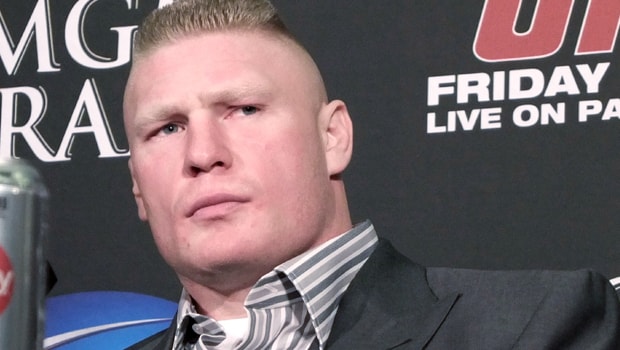 Daniel Cormier has confirmed Brock Lesnar will be the last fight of his career although the UFC heavyweight champion is unsure whether he will take on anyone else beforehand.
Cormier, who also holds the light-heavyweight belt, recently revealed he plans to retire from MMA on March 20, 2019 – the day he turns 40 – leaving little time to squeeze in fights.
Fellow American Lesnar has already been confirmed as one of his opponents during this period after the duo become involved in an altercation in the middle of the octagon at UFC 226.
The incident came about after Cormier had defeated Stipe Miocic for the UFC heavyweight title and there is a huge buzz after the 39-year-old confirmed he would be taking on the current WWE wrestler.
However, due to the Louisiana-born star also holding the light-heavyweight belt, he will likely have to put on a title defence and many are deliberating who he may have to fight.
When quizzed about the number of fights he will have, Cormier said he was unsure at this stage although he did reveal Lesnar will be the final bout of his career.
He said during an interview with MMAWeekly.com's Damon Martin: "(Lesnar) will be the last one. He'll be the last fight of my career.
Will he be next? I don't know. I hope so, but I've still got a belt to defend at 205 [pounds] to think about.
"It's going to be difficult, but as a professional, you have to approach every fight the same exact way. I would prepare myself to win and to defend the title.
"Any time you're in a UFC title fight, it's a big deal, and for anybody to say they aren't up for it is crazy. You're a professional. You're a fighter. You have to get up for these events."
Leave a comment