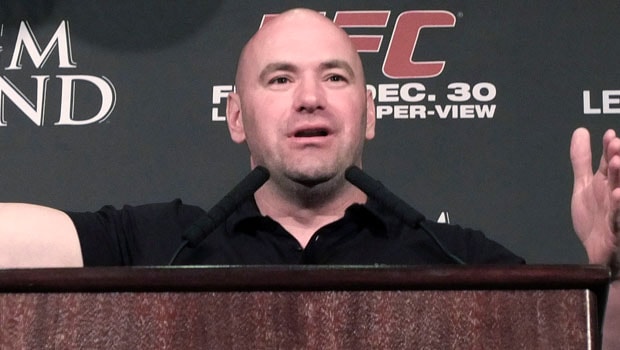 UFC president Dana White plans for the promotion to have a stacked May 9 card.
The location wasn't announced but it would obviously be with no fans in attendance. ESPN's Brett Okamoto first reported the news. "UFC president Dana White says the company has turned its focus to hosting its next event on May 9 at a location TBD. He remains adamant the company will get back on schedule, and barring outside factors, intends to hold a card on May 9," Okamoto said.
As for the potential fights on the card, Okamoto revealed that the UFC wants Women's bantamweight and featherweight champion Amanda Nunes to battle top featherweight Felecia Spenser. They also want to have No. 1 ranked lightweight contender Tony Ferguson facing Justin Gathje, No. 4 in the UFC lightweight division. Gathje was going to replace Khabib Nurmagomedov in the main event of UFC 249 on April 18th.
Bantamweight champion Henry Cejudo vs. former champion Dominick Cruz is also in the works, as well as a fight between heavyweights Francis Ngannou and Jairzinho Rozenstruik, just like the one that was supposed to happen in UFC 249.
Okamoto also said that that a welterweight fight between Donald "Cowboy" Cerrone and Anthony Pettis has been verbally agreed too. This is what Okamoto said about the card:
"Very fluid. Some have verbally agreed, others are hesitant and want more details. Fighters want to fight but these are crazy circumstances, obviously. But … this is the card as of today, UFC is working on."
Leave a comment