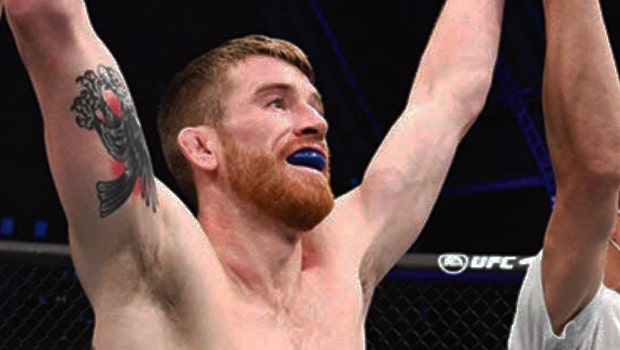 Cory Sandhagen had the best performance of his young career on Saturday, dominating former bantamweight title challenger Marlon Moraes before earning a TKO victory in the second round of the main event at UFC Fight Island.
Sandhagen was obviously thrilled to win again but top-ranked bantamweight contender Aljamain Sterling was also happy. Sterling submitted Sandhagen in only 88 seconds last June.
"Obviously I'm in a great mood because things could not have gone better in terms of locking up what should be, now, an obvious decision – which, it was obvious a year ago – but an obvious decision for the next title challenger at the bantamweight division," Sterling said on his podcast.
"So I'm super pumped about that. This was the next guy who could have potentially blocked me… The higher powers definitely had a plan and I think that was the icing on the cake to solidify that there is no more dodging, dancing around the fact that I should be the No. 1 guy and I am the No. 1 guy."
Sterling is now officially the top-ranked contender at 135 pounds. He had been stuck at No. 2 behind Moraes, who knocked him out in 2017.
Sandhagen, an Aurora, Colorado native, was very active growing up. He played basketball and other sports before discovering Mixed Martial Arts when he was 17 years old. Since then, Sandhagen picked up kickboxing and won multiple World Kickboxing Association (WKA) titles.
He began his MMA journey at Nate Marquardt's gym in Aurora before studying Psychology at the University of Colorado and joining Easton Training Center.
Cory Sandhagen went 7-1 at different promotions before joining the UFC in 2018. He debuted at UFC on FOX 27 on January 27, 2018 with a second-round TKO win against Austin Arnett.
He has beaten Iuri Alcantara, Mario Bautista, John Lineker, Raphael Assuncao and Moraes.
Born: April 20th, 1992
Age: 28
Country: United States
Height: 5'11″
Weight: 145 lbs
Reach: 70″
Stance: Switch
Association: Elevation Fight Team
Class: Featherweight
Record: 13-2
Leave a comment