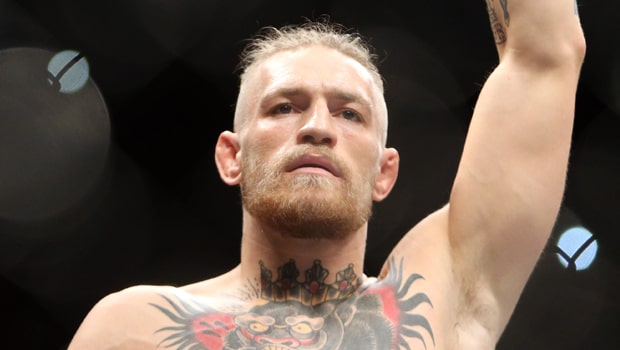 Former two-weight world champion Conor McGregor says he will fight anyone as he prepares to return to the UFC.
The Irishman has been out of the octagon since he lost to lightweight champion Khabib Nurmagomedov in October 2018. McGregor tapped out during their bout, but he went into the fight with an injured foot and claimed the outcome would have been different if he had been 100 per cent fit.
The 31-year-old has won 21 of his 25 fights in MMA, but his absence had led to speculation that he may never fight again. However, McGregor says he will never quit the 'fight game', and he claims a 2020 return could be on the cards once his broken hand heals.
He told ESPN: "I want my world title back, I want that redemption…the camp was incorrect. "Knowing the commitment I had in that camp and the performance I put in…he ran away in that first round, he [Nurmagomedov] didn't throw a punch, he shot for the legs before he threw a punch.
"I'm not going to wait around, if Dustin does it, it's Dustin, if it's Nate [Diaz], Nate, if it's Jorge [Masvidal], Jorge…Tony Ferguson, Justin [Gaethje], [Max] Holloway, the [Jose] Aldo rematch.
"Frankie Edgar is also up there because he has similarities to Khabib; he runs on the back foot and shoots on the single leg. Frankie has been very respectful, he said he wanted to tell his grandkids he fought Conor McGregor one day.
"There are so many bouts for me, but it doesn't matter, it's about getting back in and being who I am, not a shell of myself, not half-committed."
Leave a comment