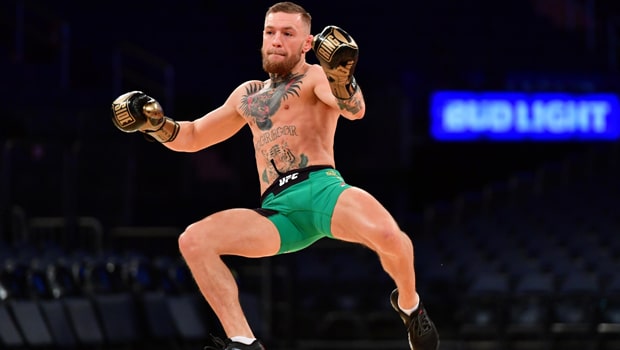 Conor McGregor said that he went into the trilogy fight with Dustin Poirier injured and it was known that he had stress fractures in his leg.
On Thursday, McGregor posted a video on Instagram in which he claimed the leg was already compromised going into the third fight with Poirier.
"I was injured going into the fight," McGregor said. "People are asking me, 'When was the leg broke? At what point did the leg break?' Ask Dana White. Ask the UFC. Ask Dr. [Jeff] Davidson, the head doctor of the UFC. They knew I had stress fractures in my leg going into that cage. It was debated about pulling the thing out." If true, should he have been in the cage at all?
Conor McGregor left the Octagon on a stretcher after injuring his ankle at UFC 264. Dustin Poirier downed McGregor during the first round after his ankle seemingly snapped from under him while in the heat of battle.
Conor's story is inspirational. He grew up in a blue-collar lower-middle class family in Dublin, Ireland and then became a multi-division champion and the highest-earning athlete in the UFC. His skills inside the octagon and his personality helped cement his name in combat sports history and he still has a lot to give to MMA.
A two-division champion at Cage Warriors, a British MMA promotion, McGregor made so much noise that UFC President Dana White noticed and in time, he became the second Irishmen in history to sign with the UFC. 'Notorious' made his presence known in the promotion, changing the business forever. He's done it all, dominating the featherweight and lightweight divisions with wins against Max Holloway, Saturday's opponent Dustin Poirier, Chad Mendes, Jose Aldo, Nate Diaz and Donald Cerrone.
Facing Khabib Nurmagomedov at UFC 229 after almost two years out of the octagon wasn't a wise move but stopping Donald Cerrone in just 40 seconds following over 15 months away at UFC 246 on January 18, 2020 put him in a position to take any fight in the division.
Born: July 14, 1988
Age: 32
Country: Ireland
Height: 5'8″
Weight: 155 lbs
Reach: 74″
Stance: Southpaw
Association: SBG Ireland
Class: Lightweight
Record: 22-6
Leave a comment