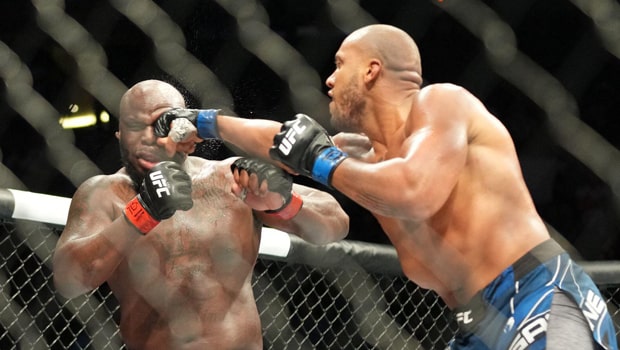 And New! Ciryl Gane stopped Derrick Lewis in the third round and became the interim UFC heavyweight champion! Gane is the first France-born UFC champion. UFC heavyweight champion Francis Ngannou reacted to Gane's win with the following tweet: "Impressive performance from Gane! He's now a legit contender. See you soon boy. When you know you know. #ufc265"
Ngannou's first title defense will likely take place against Ciryl Gane, the biggest threat in the heavyweight division. Gane is the most versatile striker the heavyweight division has ever seen and a fight with Ngannou would have plenty of intriguing storylines, for example: both former training partners, both started at the MMA Factory in Paris, France and both at the top of the heavyweight division.
"So, 104 to 8. I mean, what's that tell you? We all know who Derrick Lewis is. Derrick's one of the best in the world. He's been in there with guys that are great athletes, probably much better than him, should have beat him. But he caught 'em. He caught 'em with that punch and he ends up knocking them out. He couldn't do anything in there tonight against Ciryl Gane. That's how good Ciryl Gane is," UFC president Dana White said in the post-fight press conference.
"And if you just tuned in and you never watched MMA before, you'll be like, 'Oh, this athletic guy is beating up on this guy who doesn't look like he belongs in there.' But we know that's not the case. Who know exactly who Derrick Lewis is and tonight was just Ciryl Gane's coming out party you know," White added.
Ciryl Gane has a small professional MMA record of 10-0 (7-0 in the UFC) but he's a familiar name for Muay Thai fans. A former champion in that discipline, the French went a perfect 7-0 in Muay Thai before transitioning into MMA and he's used to competing at the highest level throughout his career.
A former TKO heavyweight champion, Gane has seven wins by either KO/TKO or submission in his career. Tanner Boser at UFC Fight Night 165 on December 21st, 2019, Jairzinho Rozenstruik at UFC Vegas 20 on February 27th and Alexander Volkov at UFC Vegas 30 on June 26th are the only fighters able to take Gane to the judge's scorecards.
Born: May 6, 1990
Age: 31
Country: France
Height: 6'5″
Weight: 245 lbs
Reach: 81″
Stance: Orthodox
Association: MMA Factory
Class: Heavyweight
Record: 10-0
Leave a comment