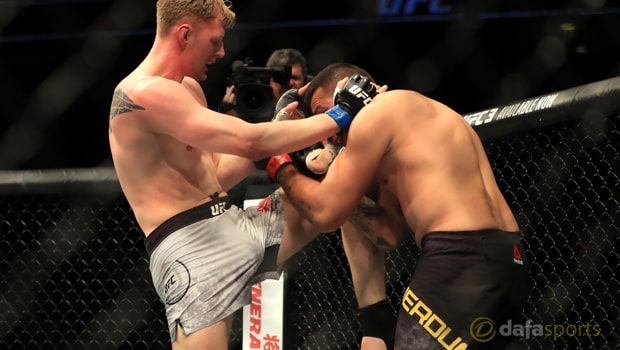 Alexander Volkov has moved a step closer to a potential UFC heavyweight title bout after beating Fabricio Werdum at UFC London on Saturday.
The Russian fighter came into the bout as the underdog, but a five-fight winning streak meant he could not be underestimated and that proved to be the case, as he knocked his experienced opponent out in the fourth round to claim the victory.
Volkov was certainly pleased with his success over former heavyweight champion Werdum, labelling the triumph as the 'biggest win' of his career to date.
The success may well have also moved the 29-year-old a step closer to a potential world title showdown with current heavyweight champion Stipe Miocic, although any potential bout will have to wait until after the American's title clash with Daniel Cormier in July.
Volkov certainly believes he is worthy of a title shot and if he is handed that opportunity then he wants the fight to take place in his home country of Russia for the very first time.
"I think I deserve a title shot right now," Volkov told his post-fight press conference.
"I would be so excited to fight for the belt in Russia. I want to bring the UFC to my country for the first time. If I can bring the UFC to Russia, I will be a fighter who has made history. I am so happy to be a part of the group of Russian fighters now fighting in the UFC."
Leave a comment