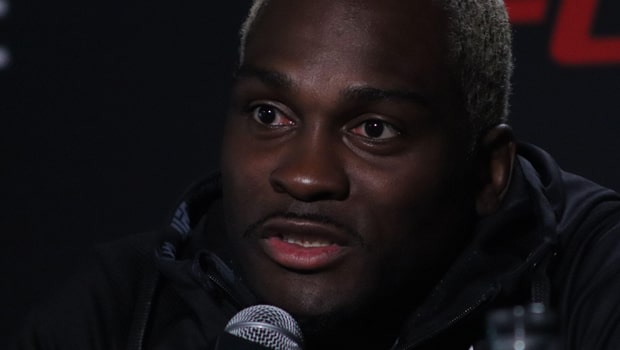 The Ultimate Fighting Championship has a jam-packed schedule and this Saturday we are getting what should be a very entertaining middleweight fight between Derek Brunson and Darren Till.
Derek Brunson began his career in sports as a competitive cheerleader and wrestler at John T. Hoggard High School in Wilmington, North Carolina under coach Dan Willis. He had scholarships for both cheerleading and wrestling but opted to wrestle at college. Brunson is a three-time Division II All-American wrestler from the University of North Carolina at Pembroke.
After college he immediately turned his attention to mixed martial arts. He made his professional MMA debut at CFP – Carolina's Summer Fight Series 1 on May 22, 2010 against John Bryant and he won using a rear naked choke in under a minute. He would win his next five fights, all before 2:30 of the first round.
Brunson made his Strikeforce debut on June 24, 2011 at Strikeforce Challengers 16, beating then-undefeated Jeremy Hamilton via unanimous decision. He has been a stalwart of the middleweight top 10 for a long time, facing a who's who in the division including past fights against Robert Whittaker, Anderson Silva, Lyoto Machida, Ronaldo Souza and Israel Adesanya. The 37-year-old is coming off wins over Elias Theodorou, Ian Heinisch, Edmen Shahbazyan and Kevin Holland. He beat Holland via unanimous decision at UFC Vegas 22 on March 20.
Born: January 4, 1984
Age: 37
Country: United States
Height: 6'1″
Weight: 186 lbs
Reach: 77″
Stance: Southpaw
Association: Sanford MMA
Class: Middleweight
Record: 22-7
Born in Liverpool, England, Darren Till began training in Muay Thai at 12 years old and turned professional at the age of 15. Till decided to train in MMA under Team Kaobon when he was 17 years old. He was involved in a fight at a party in 2012 after confronting a large group of men and was stabbed twice in the back.
The knife cut deep into his body, missing his main artery by a millimeter. The near-death experience and the advice from his then-coach Colin Heron led to his decision to move to Brazil and train with Kaobon's previous Luta Livre coach Marcelo Brigadiero.
Darren Till was supposed to pursue his MMA career and teach Muay Thai for six months but he stayed for three and a half years. He was 3-0 as an amateur and 12-0 with seven KO/TKO wins in 12 professional fights before joining the UFC.
On May 30, 2015, Till made his UFC debut on nine days' notice at UFC Fight Night 67 and knocked out Wendell de Oliveira Marques in the second round.
After a majority draw against Nicolas Dalby at UFC Fight Night 76 on October 24, 2015, Till suffered a significant shoulder injury and different personal issues kept him out for a while. He returned to face Jessin Ayari at UFC Fight Night 109 on May 28, 2017 and he won via unanimous decision.
He then beat Bojan Velickovic, Donald Cerrone and Stephen Thompson before suffering back-to-back losses against Tyron Woodley and Jorge Masvidal. Till got back on track by beating Kelvin Gastelum via split decision at UFC 244 on November 2 but in his last fight he lost a unanimous decision against Robert Whittaker at UFC on ESPN 14 on July 25, 2020.
Born: December 24, 1992
Age: 28
Country: England
Height: 6'0″
Weight: 185 lbs
Reach: 74″
Stance: Southpaw
Association: Astra Fight Team/Team Kaobon
Class: Middleweight
Record: 18-3-1
Leave a comment