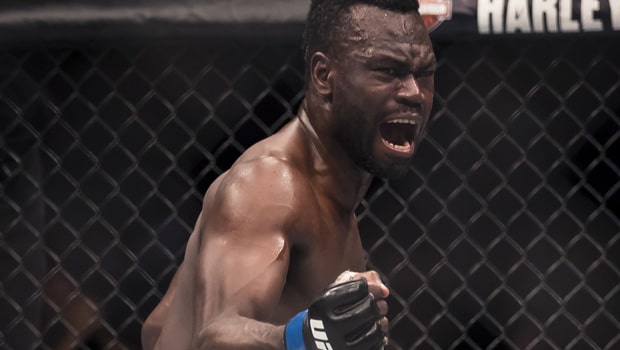 On July 31 we are getting what should be a very entertaining middleweight fight between Uriah Hall and Sean Strickland. Born in Spanish Town, Jamaica, Uriah Hall moved to Queens, New York when he was 13 years old. He was bullied at school but martial arts helped end that at age 16. Hall is a second degree black belt in Tiger Schulmann's Mixed Martial Arts under Tiger Schulmann and he also competed as a kickboxer in the World Combat League and at Bellator and Ring of Combat, where he won the Ring of Combat middleweight championship two times.
Hall suffered three straight losses against Robert Whittaker, Derek Brunson and Gegard Mousasi between November 2015 and November 2016 but he got back on track and he's won five of his last six fights, including four straight. After stopping Anderson Silva in the fourth round at UFC Vegas 12 on October 31, Hall faced former middleweight champion Chris Weidman, who suffered a devastating broken leg from the first kick he threw against him at UFC 261 on April 24.
Born: July 31, 1984
Age: 36
Country: United States
Height: 6'0″
Weight: 186 lbs
Reach: 79″
Stance: Orthodox
Association: Fortis MMA
Class: Middleweight
Record: 17-9
Sean Strickland has been with the UFC for over seven years but he was on hiatus from October 2018 to October 2020 after becoming a victim of a serious motorcycle accident. Strickland came back looking to make up for lost time and he won his three fights since. Overall he's on a four-fight win streak and he's been inside MMA gyms for a long time, collecting valuable experience since picking up the gloves when he was 16 years old.
Strickland has just three losses in his UFC career, he went the distance with current welterweight champion Kamaru Usman and there's no shame in that and he is entering his prime fighting years. The 30-year-old has won his last four fights, including a unanimous decision victory against Krzysztof Jotko at UFC Vegas 25 on May 1 and he can position himself as a top-ranked middleweight very soon.
Born: February 27, 1991
Age: 30
Country: United States
Height: 6'1″
Weight: 185 lbs
Reach: 76″
Stance: Orthodox
Association: Cquence Jiu-Jitsu
Class: Middleweight
Record: 23-3
Leave a comment