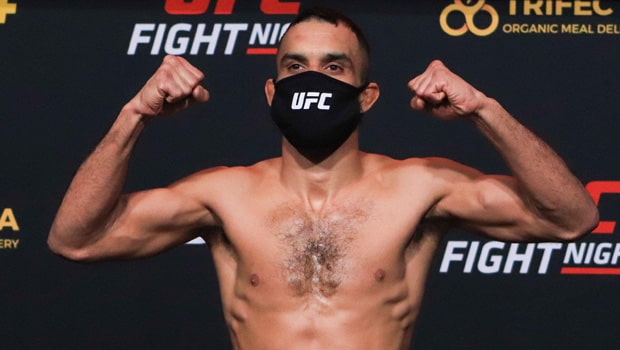 This Saturday the UFC will give us a very entertaining bantamweight fight between Rob Font and Cody Garbrandt. Born and raised in Leominster, Massachusetts, Rob Font began his amateur career in 2009 and went 3-1 before becoming a professional in 2011. He compiled a 10-1 record and won the CES MMA featherweight championship in 2013 before signing with the UFC in 2014. Font made a statement in his debut in the promotion, stopping George Roop with an unforgettable and devastating knockout in the first round at UFC 175 on July 5, 2014.
Rob Font has a decent 8-3 record in the UFC and he's won his last three fights. His win streak includes unanimous decision victories against reigning Bellator bantamweight champion Sergio Pettis and Ricky Simon and a TKO in the first round against former number one contender Marlon Moraes at UFC Fight Night 183 on December 19.
Born: June 25, 1987
Age: 33
Country: United States
Height: 5'8″
Weight: 135 lbs
Reach: 71″
Stance: Orthodox
Association: Team Sityodtong
Class: Bantamweight
Record: 18-4
A former UFC bantamweight champion, Cody Garbrandt was also a state champion in wrestling as a freshman in 2007 and an All–State linebacker during his junior season at Claymont High School in Uhrichsville, Ohio. Garbrandt committed completely to his amateur MMA career in 2009 and he went 6–2 before making his professional debut in 2012.
Gabrandt won his first five fights in the UFC and then claimed the UFC Bantamweight Championship by becoming only the second fighter to defeat Dominick Cruz, handing him his first defeat in almost a decade at UFC 207 on December 30, 2016. Back-to-back early knockout losses against T.J. Dillashaw in 2017 and 2018 (the first one cost him the UFC bantamweight championship) and one against Pedro Munhoz in under 10 seconds at UFC on March 2, 2019 forced him to take a long hard look at himself and regroup during. The hiatus from the UFC rejuvenated Garbrandt and he stopped Raphael Assuncao in the second round with a knockout of the year contender at UFC 250 on June 6 to get back on track.
Born: July 7, 1991
Age: 29
Country: United States
Height: 5'7″
Weight: 135 lbs
Reach: 65″
Stance: Orthodox
Association: Team Alpha Male
Class: Bantamweight
Record: 12-3
Leave a comment