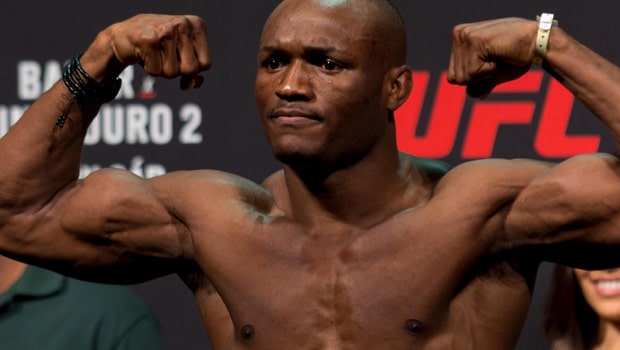 The Ultimate Fighting Championship has a jam-packed schedule and this Saturday we are getting what should be a very entertaining UFC welterweight championship fight between Kamaru Usman and Colby Covington. This is a rematch from their December 14, 2019 fight at UFC 245, when Usman beat Covington via TKO in the fifth round.
Kamaru Usman was born in Auchi Nigeria and his family moved to the United States when he was five years old. He started wrestling at Bowie High School in Arlington, Texas and was a three-time NCAA All-American and the NCAA Division II National Champion in 2010.
'The Nigeran Nightmare' made his professional MMA debut in 2012 and won The Ultimate Fighter 21, submitting Hayder Hassan in the second round on July 12, 2015. Usman is a physical force that has dominated everyone he's faced. He won his first nine fights in the UFC before beating Tyron Woodley for the UFC welterweight title via unanimous decision at UFC 235 on March 2, 2019.
Usman's current 14-fight win streak in the UFC saw him go from an unknown to one of the most dominant champions in the promotion. Usman has not lost many rounds in his career but his rise wasn't easy. This is a special fighter that has wins against Sean Strickland, Sergio Moraes, Demian Maia, Rafael dos Anjos, Tyron Woodley, Colby Covington, Jorge Masvidal and Gilbert Burns, to name a few.
Born: May 11, 1987
Age: 33
Country: United States
Height: 6'0″
Weight: 170 lbs
Reach: 76″
Stance: Switch
Association: Sanford MMA
Class: Welterweight
Record: 19-1
Significant Strikes
4.63 Landed
2.40 Absorbed
Takedowns
48% Accuracy
100% Defended
The self-proclaimed supervillain of the UFC, Colby Covington was born in Clovis, California and had a successful wrestling career Thurston High School in Springfield, Oregon, Iowa Central Community College, the University of Iowa and Oregon State University. Covington was 34-0 as a true freshman at Iowa Central Community College, winning the 165 lb national junior college wrestling title.
American Top Team owner Dan Lambert wanted to boost his gym's wrestling training in 2011 and Covington was recruited to help him. He then began pursuing a professional MMA career and moved to South Florida to train full-time. Covington went 5–0 before signing with the UFC in 2014.
His UFC debut was against Anying Wang on August 23, 2014 at UFC Fight Night 48 and he won via TKO via in the first round. Covington is 10-2 in the UFC and has wins against Demian Maia, Rafael dos Anjos, Robbie Lawler and Tyron Woodley.
Covington beat dos Anjos on June 9, 2018 at UFC 225 for the interim UFC welterweight championship via unanimous decision. Then, he was briefly linked to a title unification bout with then-champion Tyron Woodley at UFC 226 but he was unable to compete due to a recent nasal surgery. As a result, the UFC arranged a fight between Woodley and Darren Till and on July 24 Covington would be stripped of the interim UFC welterweight championship.
Colby Covington then faced Robbie Lawler at UFC on ESPN 5 on August 3, 2019, winning a unanimous decision before losing against Kamaru Usman for the UFC welterweight championship at UFC 245 on December 14, 2019. During the fight, he sustained a left mandibular fracture, was knocked down twice in the fifth round and eventually lost by TKO. In his last fight, Covington beat Tyron Woodley via TKO in the fifth round at UFC Fight Night 178 on September 19, 2020.
Born: February 22, 1988
Age: 33
Country: United States
Height: 5'11″
Weight: 169 lbs
Reach: 72″
Stance: Orthodox
Association: MMA Masters
Class: Welterweight
Record: 16-2
Significant Strikes 
4.12 Landed
2.86 Absorbed
Takedowns
50% Accuracy
75% Defended
Leave a comment