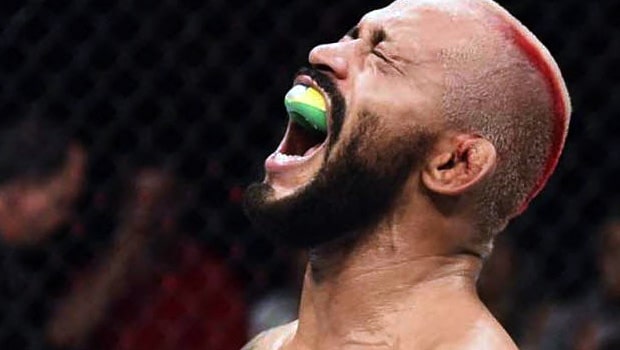 On Saturday night at UFC 255, Deiveson Figueiredo defeated Alex Perez by a guillotine choke to successfully defend his Flyweight championship title for the first time and he accomplished the feat in less than two minutes.
The bout began with both fighters jumping trading punches and kicks. For a while, neither of the men seemed to have an advantage over the other as they were both searching for a way in. Perez was heavy on the kicks but that did not seem to have any effect on the Flyweight champion.
Then, Perez made a move for Figueiredo's legs, hoping to put him to the ground but Figueiredo was able to wriggle free. At the moment that Perez's takedown attempt failed, he fell right into Figueiredo's arms and was immediately placed into a guillotine choke. Figueiredo had Perez in a tight grip as the other man was unable to break free until he tapped out. The fight came to an end at 1:57.
Figueiredo demonstrated the same brute strength and tact that saw him defeat Joseph Benavidez earlier this year to win the belt. Speaking after the fight, he explained that his win was something that he expected, having trained well for it; "I promised my master I was going to do this. I trained for that and that's exactly what happened." He has now won his last five rights in a row, improving his record to 20 wins out of 21 fights.
But Figueiredo is not ready to slow down yet as he looks forward to fighting at UFC 256 3 weeks from now. After the fight, he named Brandon Moreno as his next opponent and urged UFC President Dana White to make it happen. Moreno on his end agreed to a fixture with the champion and White later came to say that the fight was already in the works as he told reporters; "We're going to keep (Figueiredo) here. He's not going back to Brazil. We're going to turn him right around (in) December. That's what we're working on." UFC 256 holds on December 12 at the UFC Apex in Las Vegas.
Leave a comment