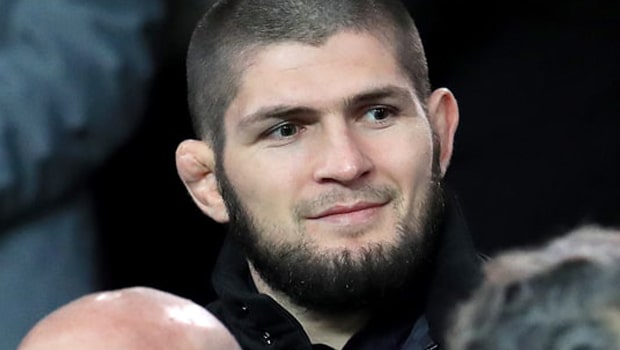 Khabib Nurmagonedov will be bagging the biggest payday of his career when he steps out in the arena this upcoming UFC 242. The Russian must have been nursing numerous thoughts in his head about the blockbuster battle, considering the paycheck in question.
Nurmagonedov will be wrestling Dustin Poirier in the UFC 242 fight in a bid to gain bragging rights as well as a huge paycheck, the biggest of his career. According to reports, if the UFC lightweight champion manages to come out with a win, he will be going home with a bumper $6 million pay. Nobody would ever want to miss such!
Now, the 30-year old's father Abdulmanap has shared his thoughts on the match-up, revealing that his son is very prepared for the match. He even went as far as reiterating the enviable status his son has developed over the years, mentioning the immense popularity he has garnered. Also, he described The Eagle as the world's best 155lb fighter.
Speaking proudly of his son, Abdulmanap stated, "We are popular, we know that. When we enter the arena, you will see the reaction to us and reaction to Poirier".
He also reminded the media that Khabib is set to earn more than three times the $2 million he picked up for his win over Conor McGregor at UFC 229 last year.
"We will surely make 3 to 3.5 more than the last time. $2m is not enough for us, because we are the best now. We have beaten the best, and we are ready to fight the best" Khabib's enthusiastic father said.
The UFC 242 showdown, which will be taking place in Abu Dhabi this Saturday, will be headlined by a lightweight title unification wrestle between Dustin Poirier and Nurmagonedov.
The clock is ticking, and the fans cannot keep the excitement down as the battle draws nearer. It is looking increasingly likely that this event will be a commercial success.
In all truth, it will be a tough asking for Poirier to come out tops against Nurmagonedov – the reigning UFC Lightweight Champion with a whopping 27 wins and zero losses. The Russian mixed martial artist holds the longest undefeated streak in MMA history.
Leave a comment