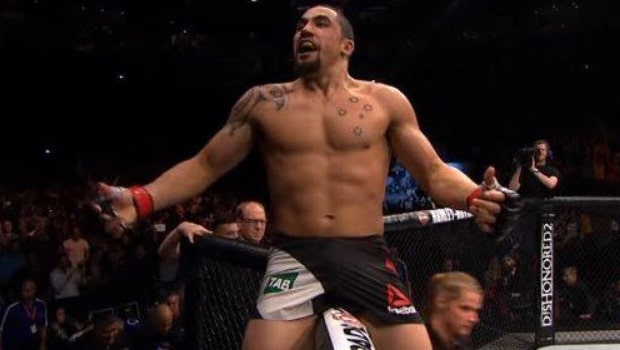 Former UFC middleweight champion Robert Whittaker beat Kelvin Gastelum via one-sided unanimous decision in the main event of UFC Fight Night in Las Vegas. Whittaker put forth an excellent performance, mixing up his striking over all five rounds beautifully.
Robert Whittaker on a rematch with Israel Adesanya, who beat him for the UFC middleweight championship on UFC 243 at October 5, 2019: "I think we should talk mate. I think it's about time we crossed paths once again."
Whittaker then posted this on Twitter: "Thank you to everyone for all the support. I don't get here on my strength alone and I'm blessed to be a part of a team that always has my back. Time to kick the feet up, heal and plan out the next path of war."
Kelvin Gastelum also reacted to the fight: "Came up short tonight Appreciate everyone's support I'm gonna go back and make sure that doesn't happen next time! Still…. #OnAmission4Gold"
When Robert Whittaker was six years old, his father enrolled him and his brother in a Goju-ryu Karate school so they could learn self-discipline and self-defense. After training there for over eight years and earning his black belt, his father offered him the chance to try another sport and Whittaker chose to switch to a Hapkido gym run by Henry Perez.
Perez eventually transformed it into an MMA gym and Whittaker began training in MMA, preferring it over the National Rugby League. In 2008 he began competing professionally. Whittaker debuted in the UFC at UFC on FX 6 on December 15th, 2012, also known as "The Ultimate Fighter: The Smashes Finale." He beat Bradley Scott via unanimous decision to become the welterweight winner of the show.
An impressive run of seven straight wins after moving to middleweight in 2014 helped him earn a fight for the interim middleweight title against Yoel Romero at UFC 213 on July 8th, 2017. Robert Whittaker won by unanimous decision, becoming the first Australian and first New Zealand-born fighter to hold a UFC title. He then won the rematch by split decision at UFC 225 on June 9th, 2018 before Israel Adesanya knocked him out in the second round at UFC 243 on October 5th, 2019. He got back on track with unanimous decision wins against Darren Till, Jared Cannonier and Kelvin Gastelum.
Born: December 20, 1990
Age: 30
Country: Australia
Height: 5'11″
Weight: 185 lbs
Reach: 73″
Stance: Orthodox
Association: PMA Super Martial Arts
Class: Middleweight
Record: 23-5
Leave a comment