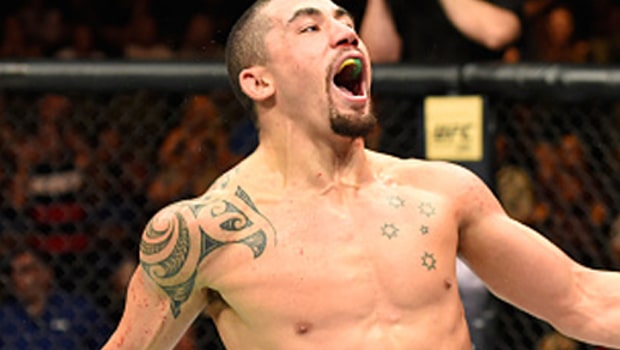 UFC middleweight champion Robert Whittaker isn't sold on the hype surrounding Israel Adesanya as he prepares to face Kelvin Gastelum for the interim belt.
Whittaker was scheduled to defend his title against Gastelum at UFC 234 earlier this month, but the champion had to pull out on the day of the fight.
He was rushed to hospital with a collapsed hernia and it remains unclear when he will be ready to return to the octagon.
In the meantime, the organisation has decided to create an interim middleweight title to ensure the division can continue in his absence. Gastelum and Adesanya will square off at UFC 236 on April 13 and Whittaker is hoping to be back to face the winner within three months.
Whittaker said: "I'm looking to fight the winner of that. I guess, in terms of timelines and dates, it will be a month – two or three months after that. Three months maximum, one month minimum.
That's the kind of timeline I'm looking for." Adesanya is undefeated in 16 MMA fights, having fought under the UFC banner on five occasions, and many believe he has the attributes to rule the division.
The Last Stylebender eased past the legendary Anderson Silva last time out, but Whittaker isn't completely convinced. He added: "I think that Adesanya isn't as good as he thinks he is.
"I think he's very good – very, very good – and I have a lot of respect for his skillset, 100 per cent. He's a dangerous guy.
"But I don't think the pedestal that he's on is as high as everyone else thinks it is, as he thinks it is. I think his fight with Anderson Silva was the first time his stand-up capabilities were put to the test with someone with similar stand-up capabilities.
"I don't think Adesanya's striking is as good as he believes it is. It's very good. I'm not saying his striking is bad, it's very, very good. But I just don't think it's as good as he thinks it is. The times Adesanya's looked very good is against people that don't have the greatest striking."
Leave a comment