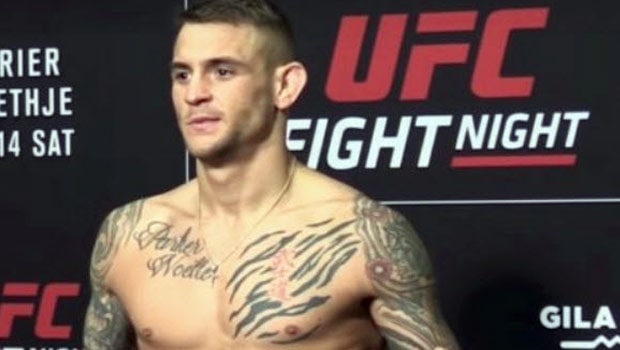 Dustin Poirier would go down in the MMA books as the first person to knock out Irishman Conor McGregor as the two of them met for a second time on Saturday night at UFC257. But the fight was over before we could begin to enjoy it as Poirier was able to score a knockout in the second round to bring the fight to an end.
The first round started with so much fire from the two fighters as McGregor tried to put Poirier in a corner. Poirier resisted and launched a successful takedown but McGregor was able to scramble free and then followed up with a series of shoulder strikes.
Both men struggled for position along the fence as McGregor fired some knees to Poirier's body. Poirier tried his best to score another takedown but did not have any luck as McGregor held on tightly. The two men finally broke free as McGregor landed a blow that seemed to stun Poirier but American ate it up and followed with a hook of his own. All McGregor could do was to fire leg kicks but that seemed not to have any effect on Poirier, even when McGregor shot a left hand towards the final second of the round.
The second round looked quite promising for both men but it was Poirier that was rewarded.  This time, Poirier used more leg kicks which weakened McGregor as the man found it hard to land a good shot of his own. Poirier tried all he could, using a combination of punches to stun McGregor and it all seemed to work. Then, he fired a right hook that sent McGregor to the canvas. He followed up with two punches that did the real damage as McGregor lay limp on the floor. The fight came to an end at 2:32 in the second round.
The result of the match was a little surprising, considering how much hype McGregor had created leading to the fight. Amidst all the talk, it would have been easy to underestimate Poirier who has now proven that he is a force to reckon with in the lightweight division. Speaking after the match, he said, "I'm happy but I'm not surprised. I put in the work. Conor took this result professionally. We're 1-1, maybe we have to do it again. I'm happy with the place that I am."
For McGregor, he would have to deal with the feeling of enduring his first knockout loss, but he is taking it in good faith, blaming his loss on inactivity and admitting that it is a tough pill to swallow.
Leave a comment