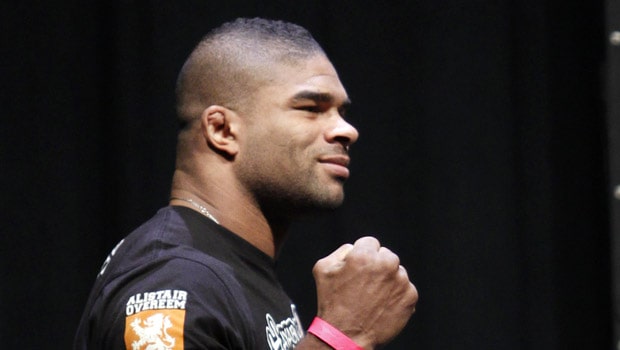 Alistair Overeem was able to force a fifth-round stoppage to beat Augusto Sakai at UFC Vegas 9. With the victory, Overeem secured his 47th career win and was also his fourth win in his past five matches. Sakai was not easy to beat, by any means, but Overeem was able to bring his prowess into the ring and show the young fighter the value of experience.
The first round showed just how vicious both fighters were, each aiming for a knockout. One minute into the fight and Overeem was already aiming for a front kick, although his attempt got stopped. Sakai throws a body kick and both fighters begin kneeing each other. At a point, Sakai presses Overeem to the fence but Overeem is quick to break free. He then disrupts a low kick with an overhand, gives Sakai a kick in the groin, and then kicks Sakai in the leg before the round comes to an end.
The next round followed a similar fashion of Sakai pressing Overeem against the fence and both fighters kneeing each other. Overeem later his opponent against the fence at some point, and both men continue to give each other the business, with knees and kicks and clinches. Overeem and Sakai are tough on each other and no one is showing any sign of relenting. Round 3 offered nothing different with Overeem appearing to be holding back a bit, but is able to dispel attacks from Sakai. This continues until Overeem is able to trip his man, then gets on top of him, landing punches left and right. Sakai throws kicks to get Overeem off. Sakai ends that round with blood streaming down from open cuts.
By the fourth round, Sakai was able to cut Overeem open with his elbow but that does not save him from the round of punches he receives as Overeem throws him to the floor again. The punches continue and Sakai is unable to kick Overeem off. The round ends this way. By the fifth round, Overeem is determined to end this as fast as possible, dragging Sakai down and punching away till the round gets stopped at the 0:26 seconds.
After the match, Overeem praised Sakai, saying, "Augusto is a tough guy, and an up-and-comer. We kind of knew that he'd take the punishment. But we did it, at 40 years of age." Overeem, with over 60 fights in his amazing career, is not ready to call things quits yet as he believes he still has another fight left in him.
Leave a comment