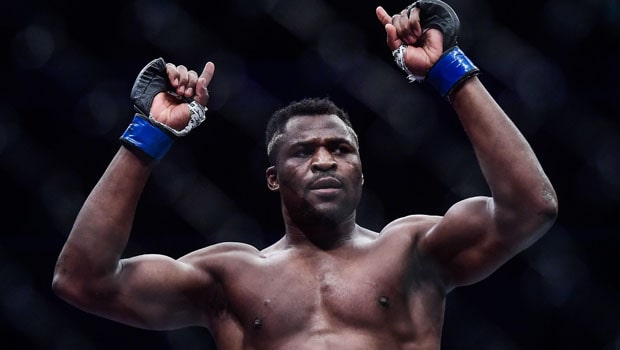 Francis Ngannou got his revenge against Stipe Miocic, proving that he's more than just brute force. Ngannou is an intelligent fighter that made an adjustment. Miocic came out on top in their first bout, putting an end to Francis Ngannou's heavyweight title dreams with a lopsided decision victory at UFC 220 on January 20, 2018.
Both fighters have been through a lot since then. Miocic wanted to make history repeat itself. The first time he met Ngannou he fought the perfect fight, avoiding his opponent's heavy artillery in the first rounds and then taking control of the bout with his takedowns and more accurate striking. All Ngannou needed was to land one big punch. It worked against Alistair Overeem, Curtis Blaydes, Cain Velasquez, Junior dos Santos and Jairzinho Rozenstruik and he had 25 minutes to make it happen. Ngannou had time to grow and mature since the first fight with Miocic, he regained his confidence and he was ready to prove that he was always destined for greatness.
Ngannou was born and raised in the village of Batié, Cameroon. As a youngster, Ngannou refused to join several gangs in his village and he pursued boxing to counter his father's negative reputation as a street fighter. At 22 years old Ngannou began training in boxing and he turned pro in Paris four years later. After two months in jail in Spain for illegally crossing the border, Ngannou reached Paris with no money or friends and he was homeless on the streets until he began training for free under Didier Carmont in 2013.
Carmont eventually introduced him to mixed martial arts and he was on fire in the UFC, with wins against the likes of Curtis Blaydes, Andrei Arlovski and Alistair Overeem, which earned him a title shot against Miocic at UFC 2020 in 2018. He lost via unanimous decision and then Derrick Lewis beat him via unanimous decision at UFC 226 on July 7, 2018.
Francis Ngannou bounced back with first-round knockouts over Curtis Blaydes, Cain Velasquez, Junior dos Santos and Jairzinho Rozenstruik — all in less than three minutes combined. Blaydes, Velasquez, dos Santos and Rozenstruik are not exactly cupcakes in the heavyweight division and now he also stopped a legend in Stipe Miocic.
Born: September 5, 1986
Age: 34
Country: France
Height: 6'4″
Weight: 250 lbs
Reach: 83″
Stance: Orthodox
Association: MMA Factory
Class: Heavyweight
Record: 16-3
Leave a comment