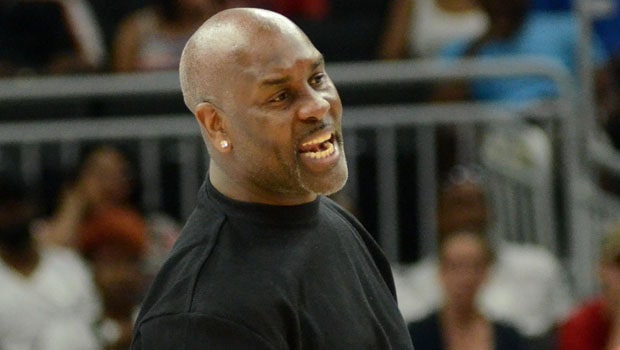 ESPN's 'The Last Dance' featured several raw, earnest reactions from Michael Jordan. Episode 8 may have had possibly the best look at MJ's competitiveness yet.
The episode focuses in the 1996 NBA Finals between the Chicago Bulls and the Seattle SuperSonics, detailing how they won two straight games after Defensive Player of the Year Gary Payton decided to guard Michael Jordan.
Payton said that his defense in games 4 and 5 tired and "took a toll" on Jordan. "The Glove" told the filmmakers that his idea was to tire out MJ and that he wished he had guarded him sooner before the SuperSonics went down 3-0 in the series. Payton said that his physical defense got to Jordan.
"A lot of people back down to Mike, I didn't. I made it a point I said just tire him out, tire the f*** out of him, you just gotta tire him out and I kept hitting him and banging him and hitting him and banging him, it took a toll on Mike, it took a toll," Payton said.
"… And then, the series changed… and I wish I could have did it earlier. I don't know if the outcome would have been different," Payton concluded.
In an effective move, the filmmakers showed Jordan watching Payton's comments. MJ gave a look of disbelief, then a hilarious, earnest laugh to dismiss what Payton stated. Jordan then said:
"The Glove. I had no problem with The Glove. I had no problem with Gary Payton."
Did Payton's defense take a toll on MJ? What took a toll was that Jordan played his first full season since 1992-93 and back then, load management didn't exist. Michael Jordan played in all 82 games in the regular season, leading the Bulls to a 72-10 record while averaging 30.4 points, 6.6 rebounds, 4.3 assists and 2.2 steals in 37.7 minutes.
MJ also played in all 18 games in the playoffs, including 15 games before the two losses in the NBA Finals against the SuperSonics, so obviously his body felt the effects of that effort. He still averaged 24.5 points in the two losses against the SuperSonics, so it's hard to side with Payton here.
'The Last Dance' spent a lot of time registering Jordan's competitive nature and occasional ruthlessness. The documentary also covers how Michael Jordan took any slight to motivate himself. Before the 1996 Finals, MJ said that he was fueled by SuperSonics head coach George Karl ignoring him when he said hi to him in a restaurant.
The Bulls went on to win the 1996 NBA Finals in six games. Michael Jordan averaged 27.3 points, 5.3 rebounds and 4.2 assists in 42.0 minutes, shooting 41.5 percent from the field. MJ was named NBA Finals MVP.
Leave a comment