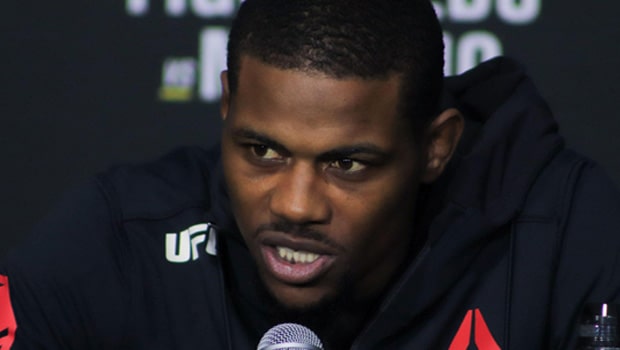 "I'll Be Back," Holland said after Vettori outpointed him in a unanimous decision in the UFC on ABC 2 main event last Saturday. Vettori exploited Holland's suspect wrestling defense and got 11 takedowns (setting a record for most takedowns landed in a fight), dominating the entire fight as far as grappling from the first round. Holland hasn't had the time to develop strong takedown defenses or build their ground skills up, he clearly needs to develop mat skills to climb atop the division.
First, he has to get back in the gym and he's fought at an alarming frequency since the start of last year (seven fights). Holland has to slow down and work on his rudimentary skills before taking harder fights against the best in the division. Holland's striking is elite but as mentioned above, his wrestling defense is worrisome.
Working with Daniel Cormier and possibly Khabib Nurmagomedov would do wonders for Holland. He has unlimited potential but his back-to-back losses against Derek Brunson and Vettori could slow his rise down. He needs to take a few months off with dedicated training.
"I fought seven times since the pandemic, I'm gonna go and spend some time with the kids, you know what I mean? And then we'll get back to it. You know, it's nothing to a sniper, sometimes we miss the shot, sometimes we land the shot," Holland said about the fight and his plans.
He then talked about what he needs to work on. "I'm not the only one who lost tonight. But I'm the only one who did five rounds and got finished in neither one against elite-level guys each time. I honestly don't know, you know, go spend some time with DC for sure work on some of that wrestling thing. Go work on wrestling, you know, learn how to stop some of these takedowns."
Holland just needs to work on defending takedowns and a bit on his wrestling and going for help from Cormier is a smart move. Born in Riverside, California, Holland was raised in Rancho Cucamonga and Ontario and started his martial arts training at 16 years old. He was inspired by his hero Georges St-Pierre after watching him for the first time at UFC 100.
After going 5–0 as an amateur MMA fighter, Holland became a pro in 2015 and fought at promotions like Xtreme Knockout, Legacy Fighting Championship, King of the Cage, Bellator MMA and Legacy Fighting Alliance. Holland compiled a 12–3 record before signing with the UFC in 2018. He is 8-3 in the UFC, with wins against John Phillips, Gerald Meerschaert, Anthony Hernandez, Darren Stewart, Charlie Ontiveros and Ronaldo Souza.
"Trailblazer" Holland has won five of his last seven fights (four by KO or TKO). He submitted Charlie Ontiveros in the first round at UFC Fight Night 181 on October 31st and he stopped Ronaldo Souza in the first round at UFC 256 on December 12th.
Born: November 5th, 1992
Age: 28
Country: United States
Height: 6'3″
Weight: 185 lbs
Reach: 81″
Stance: Orthodox
Association: Phalanx MMA Academy
Class: Middleweight
Record: 21-7
Leave a comment