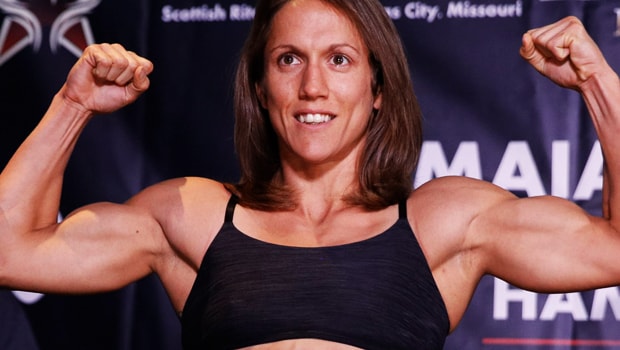 Kal Holliday says she is determined to end the year with a championship belt in her hands and will go up against anyone to ensure her dream becomes reality.
Holliday made her professional debut against Muay Thai veteran Tiffany Van Soest at Invicta FC 19 last September in what was expected to be an extremely difficult fight.
However, the American, who was born in Oregon, produced a fantastic performance to record a second-round submission victory over her more experienced opponent.
That display by the up and coming strawweight star grabbed the attention of many onlookers and there will lots of eyes watching her progression this year.
Becoming a world champion is the main goal for Holliday and she has already sent a warning shot to the division ahead of her first full professional year.
"Basically I want to chip away at the top, and I don't care who I have to go through," she told MMAWeekly.com.
"It doesn't matter who you put in front of me, as long as I keep getting fights and moving my way up.
I want that title. Definitely I'm moving on up and am going to do big things."
Holliday is next in action on Saturday at Invicta FC 22 where she will take on another rising talent in the shape of Miranda Maverick, who won her last fight back in November.
The former Marine Corp is expecting a more difficult fight than the one against Van Soest but she is still confident of adding another win to her tally.
"I think she's a pretty well-rounded fighter, but I feel I'm a little more developed than her," Holliday added.
"It will be interesting to see how the fight plays out because of her strengths and weaknesses, because she's more well-rounded than my last opponent."
Leave a comment