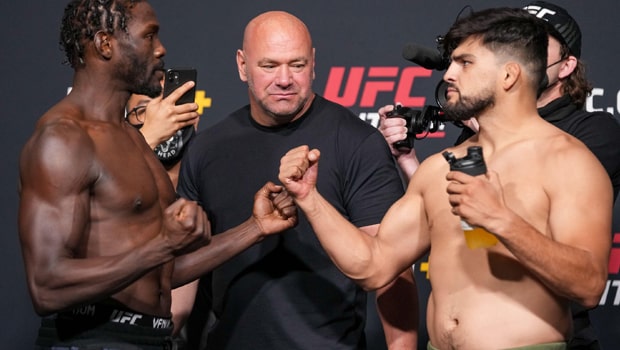 Top-ranked middleweight contender Jared Cannonier won a big decision over Kelvin Gastelum in the main event of UFC Vegas 34 on Saturday before declaring he was struggling financially.
"I'm broke, so I need to fight," Cannonier told Daniel Cormier after the win. "Hopefully, I get that title shot. The right name might make me say yes."
During the post-fight press conference, his comments made it clear that wasn't just a joke.
"It's either title or contender," Cannonier said when asked what was next. "It was supposed to be Costa, but that didn't happen. I really needed to fight, so…. I don't think [Israel Adesanya] and Robert [Whittaker] are going to fight until next year. So that's four, five, six months even? And then another three, four months after that? I can't wait that long. So who knows, I may end up taking a fight."
"If they give me a name, 'You win, you get the shot.' Okay. Easy," he declared.
It's no coincidence that Jared Cannonier is nicknamed 'The Killa Gorilla.' Eleven of Cannonier's 14 wins as a pro were via knockout or submission and he's not afraid of fighting the very best in the UFC. Cannonier has faced the likes of Glover Teixeira, Jan Blachowicz, Dominick Reyes, Anderson Silva, Jack Hermansson, Robert Whittaker and Kelvin Gastelum and his UFC losses all came up against champions or former title challengers so no one can question his setbacks.
Cannonier has fought as a heavyweight and light heavyweight in the past and in 2018 he cut down to 185 lbs to make the middleweight limit. This helps explain why he's 4-1 as a middleweight with three wins by KO or TKO.
Born: March 16, 1984
Age: 37
Country: United States
Height: 6'0″
Weight: 185 lbs
Reach: 77″
Stance: Switch
Association: MMA Lab
Class: Middleweight
Record: 14-5
Leave a comment