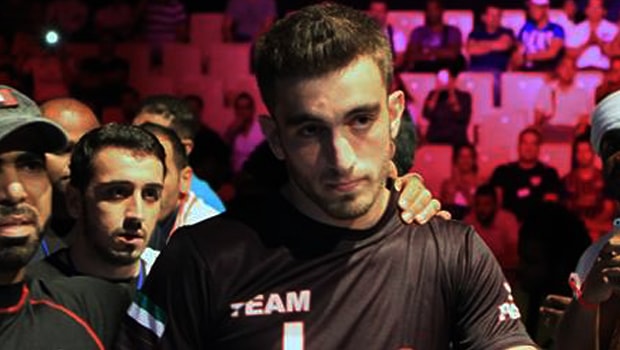 Mohammad Yahya is hoping he can impress in Bellator MMA after signing a four-year contract and eventually earn the chance to shine in the Ultimate Fighting Championship.
Yahya, who is the first Emirati mixed martial artist to join an international promotion, is looking to make his mark after joining the world's second biggest promotion behind UFC.
The lightweight fighter has a decent record so far, winning six and losing just one of his seven bouts, and he already has dreams of competing at the highest level one day.
Last time out the UAE star picked up an impressive first round victory over Mahmoud Mohamed – winning by submission – and attentions are already being turned towards the next opponent.
His only loss came against Hassan Talal, who is ranked 24th out of 106 active Middle East Pro Lightweights, at Desert Force 25 in December last year when he was knocked out in the opening round Yahya is aiming to follow in the footsteps of sparring partner Gorkan Sak, who earned a call-up to UFC last month to feature in the light heavyweight section.
"He's the best stand-up fighter in the UFC and it's a great opportunity for me to train and learn from him and hopefully be in the UFC myself one day," he said.
"Every fighters goal is to make the UFC. "Bellator are the second best in the world and for me now this is a perfect way to get experience and build my career before getting in the UFC.
"If I win all my fights in Bellator I'm sure I'll be guaranteed a spot in UFC, especially as they want local talent from this region, and I'm the best local talent here, but I'm taking it step-by-step right now."
Leave a comment