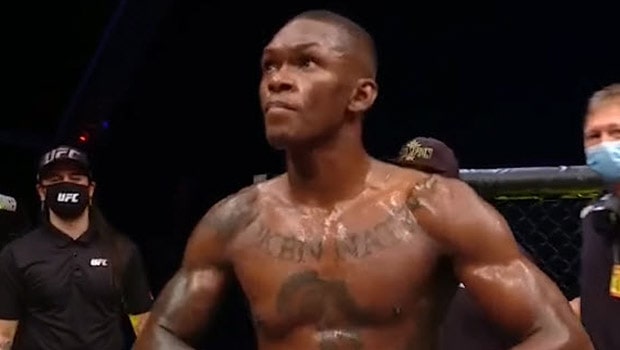 Middleweight UFC champion, Israel Adesanya has won another night in the UFC after knocking out Brazilian fighter, Paulo Costa in the second round, in a match that was supposed to prove a challenge to both fighters.
The Nigerian-born fighter had his Middleweight belt on the line as he went into the fight with an undefeated record just like his opponent. But Adesanya made sure we did not have to wait too long to know who was the better fighter between him and Costa as he forced a KO not up to 4 minutes in the second round.
The winner began Round One focusing on his opponent's leg with a series of low leg kicks. Costa remained uncharacteristically cool all the while, attempting some head and body kicks, some of which got blocked. Adesanya continued with his leg assault, this time kicking the body too.  Costa failed to miss a jab and also failed to register a kick on the other man's body. But he later landed a body kick which Adesanya quickly countered before the round ended.
The second round followed a similar start pattern with the first as Adesanya began with leg kicks and Costa failed to keep up, although he managed to land a few leg kicks. Adesanya went for a head kick which he did not make.
He then went for a low kick before trying another head kick. This time, the kick connected and gave Costa a cut over his eye. That kick did the damage as Costa never felt good after that. Adesanya sent a left jab that took Costa to the floor. Adesanya then got on top and delivered few punches before the match was stopped by the referee at 3:59 in Round Two.
This was the first time in over 10 years that we had a bout between two undefeated fighters. The fight, which was the main event of the night, took place at the UFC Fight Island, Yas Island, Abu Dhabi, without the presence of fans.
Adesanya has written his name in gold with his 9th UFC Win and also his second title defence. Both fighters did a lot of talking before the fight with some very heated press conferences, Adesanya turned his words to points by proving that Costa does not stand a chance against him.
But he is not ready to quit yet as he went on to name who he would like to fight next. He said, "I already DM'd Jared Cannonier. He's a hell of a dude. I love his energy. He's a beautiful man. I said you destroy Robert Whittaker and you're next. He's the one I want to fight next. He deserves it. If he beats Robert Whittaker handily and dominates him, he's next."
Leave a comment