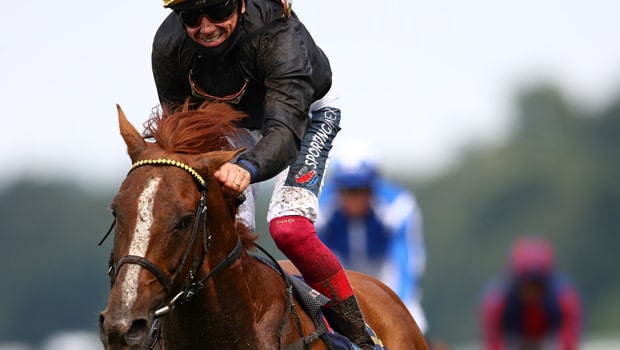 Stradivarius put up a good show on Tuesday after coming from fifth place to win the Al Shaqab Goodwood Cup for a record fourth time. The horse was ridden by Frank Dettori and this was the Italian's 6th victory at the competition.
The horse, a 4-7 favourite, could not keep up with rivals as the race began and was sent to fifth place while Nayef Road and Santiago led the pack. But Dettori's calmness allowed him to steer the horse to victory, just at the right moment, cruising ahead of its rivals and winning the 2-mile race. Nayef Road hurried right after Stradivarius while Santiago settled for third place.
Speaking after the race, Dettori said, "What a horse, giving 15lb away. Everybody rode to beat me and he still gets out and wins. What can you say, he's an amazing horse." He also described how it felt to win three King George awards in the past three days and to win the fourth award with Stradivarius on Tuesday.
The horse trainer, John Gosden, described the race as one of the greatest challenges for the horse which has packed 15lbs. He said, "it looked like he was boxed in – which maybe he was – but the key thing when you are tracking a horse like Santiago, who is in receipt of 15lbs, what you must not do is attack two and a half to three furlongs down, and turn it into a real slog. It was a great performance under that weight."
Gosden also made mention of the next plans for the horse, saying that they would enter the horse for the Prix Foy before taking it to the Prix de l'Arc de Triomphe later this year. But he said he would not ask Dettori if he would want to ride the horse but would wait for him to explain his plans.
Leave a comment