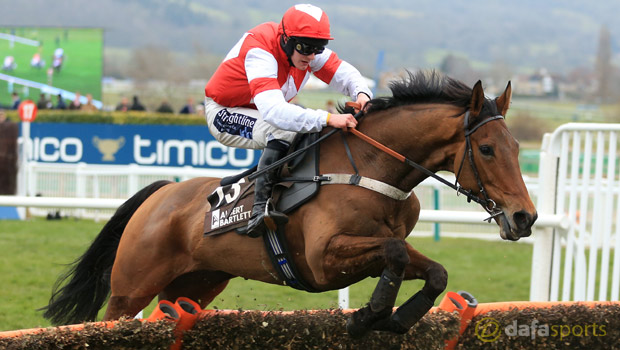 Trainer Rose Dobbin has confirmed that Jonniesofa will miss the first half of next season after picking up a tendon injury.
The Grade Two winner was hoping to kick on after his ninth-placed finish at Cheltenham in the Albert Bartlett.
However, the bay gelding has suffered a tendon injury and will now miss months of action.
Jonniesofa has won three times so far in his career, with victories at Kelso, Newcastle and Haydock, while his run at Cheltenham was also impressive at Grade One level.
Connections were delighted with his strong performance on quicker ground last time out but now have to deal with the injury setback, although Dobbin is confident the six-year-old will bounce back.
"Very, very annoyingly there was a sting in the tail as he has come back with a little bit of suspensory damage," she wrote on her blog.
"It looked so innocuous, but his leg was a tiny bit puffy, so to be ultra safe we scanned it.
"Even our vet on first look thought it was fine, but it transpires there is just a tiny hole in the suspensory, so that is certainly the first half of next season knocked out.
"Time will tell if we bring him back for the second half. Absolutely maddening, but as legs go, it's on the very minor end, and ought to have a very good prognosis.
"I suppose it's just racing, and especially at that speed in a Grade One race. He'll be back!"
Leave a comment