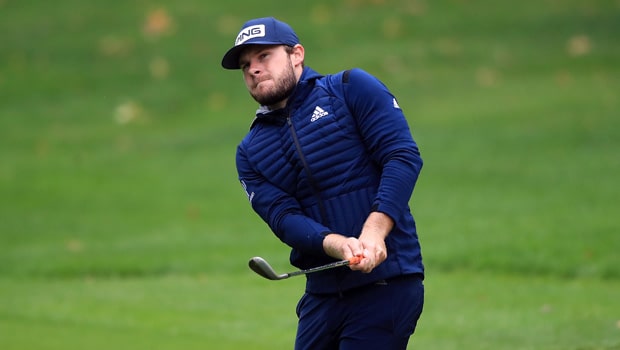 Tyrrell Hatton has attributed his good form to better fitness.
Hatton had struggled with his fitness in the past two years and a half. But he is now playing more relaxed and pain-free.
This is following his good start in the ongoing BMW PGA Championship when he set the pace with an opening-round 66 at Wentworth.
It could be said that he is enjoying home comforts and the benefits of improved fitness. These have been the source of his superb start to the BMW PGA Championship.
After his return to the UK from the PGA Tour, he has been consistent. This has helped him to maintain his place in the top 15 of the world rankings.  He is among the top 15 despite missing the cut at the US Open.
The 28-year-old recorded a six-under 66 over a West Course. Hatton, who won his first PGA Tour title at Arnold Palmer Invitational in March, is now playing much longer and tougher than usual. This has made him earn the early clubhouse lead.
Since the return of golf action after 91 days of lockdown due to the COVID-19 pandemic, Hatton has posted three top-five finishes. One of the top feats includes a fifth place in the season-ending Tour Championship.
Hatton, who admitted that his encouraging run of results had been a more regular visitor to the gym, expressed his delight at how far he has gone on the golf course.
While stating that he has put a lot of hard work into his fitness, which he didn't do previously said, playing pain-free is a bonus.
Hatton, who noted that he is a self-conscious person, said he struggled with it over the last two years, before overcoming it.
The 28-year-old who enjoyed the gym process is excited over his new look but didn't lose much weight.
With the feeling of being in a good place, Hatton said he would be calmer on the golf course, which he expects to help get the needed result.
His five birdies, one eagle at the fourth, were his 14th, with just a few blemishes coming from the wayward drive at the seventh.
He, however, recovered with a bounce-back birdie. This made him describe the morning as a tough one, but he could come back into the game with a good shot, which kept the momentum going.
Leave a comment