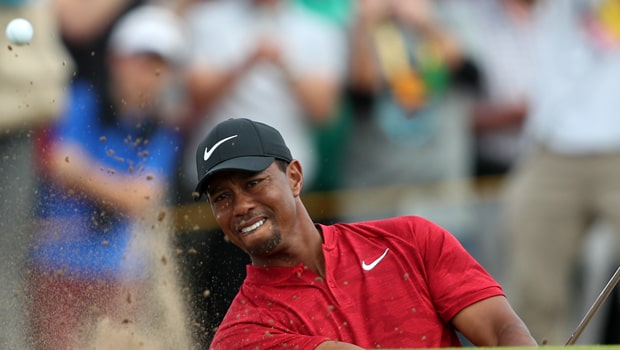 Tiger Woods says he will keep "chipping away" at Sam Snead's all-time PGA Tour title record after the former world number moved to within just two trophies with success at East Lake on Sunday.
In a tense final day of the last PGA Tour tournament of the season, Woods managed to hold his nerve over the remaining 18 holes to land the Tour Championship for the third time in his career.
The American shot a one-over-par 71 to finish on -11, two strokes ahead of compatriot Billy Horschel and a further two clear of 2016 US Open champion Dustin Johnson, who moved back to the top of the OWGR.
Despite a late scare, Englishman Justin Rose was able to finish in a tie for fourth and claim the FedEx Cup for the first time, becoming just the third European to land the $10million bonus.
But the story of the season was undoubtedly about Woods, who was surrounded by fans on his walk to the 18th green, as he triumphed for the first time in five years.
Many believe the 42-year-old's win is one of the greatest sporting comebacks in history and, having moved to within two of Snead's record, he is now aiming for the outright lead in PGA titles.
"To kind of get to the 80 mark is a big number," Woods told reporters.
"Sam is still ahead of me. I've still got, I feel like, a chance to play some more golf and maybe I'll keep chipping away at that number and maybe surpass it.
"But I just think that what I've gone through and what I've dealt with, I've gotten lucky, to be honest with you.
I've gotten very lucky. I'm not playing a full-contact sport or I've got to move people around in that regard.
"At 42 years old with a fused lower spine; that's not going to happen. But in this sport, it can.
I'm lucky to have the opportunity to have the people around me to have supported me and worked through this process with me, and I've ground out a chance to win golf tournaments again."
Woods is the joint 10.00 favourite alongside Jordan Spieth for the 2019 Masters, with Rory McIlroy priced at 12.00 whilst Justin Thomas and Dustin Johnson are both 13.00 chances to land the coveted Green Jacket.
Leave a comment