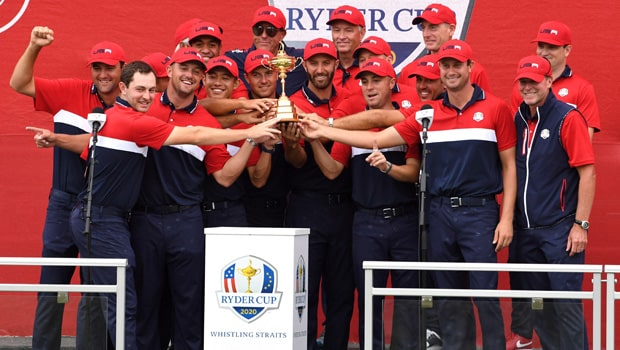 Team USA earned a resounding victory over Team Europe to win the 2021 Ryder Cup. The victory marked the 27th time Team USA would win the competition.
Team Europe, who won the last event in 2018, won seven out of the nine previous editions. Players like Bryson DeChambeau, Patrick Cantlay, Brooks Koepka, and Collin Morikawa, helped drive the US to their much-needed victory. The competition also appeared to have healed the relationship between Koepka and DeChambeau as they embraced each other at the end of the event. Northern Irishman, Rory McIlroy and Ian Poulter were visibly looking sad after their side failed to defend the title.
This is the first time in the history of the event that a team would finish with a 10-point difference over the other. The last time it happened was when America won 18½-9½ in 1981 and Europe won with the same margin in 2004 and 2006. By Saturday, Team USA was already leading 11-5, coming from 6-2 on Friday, the first day of the competition. Team USA's win was hinged on their quality of players, which included young players who came ready.
After the competition, McIlroy commented that Team USA was formidable and they could go on to win the competition for the next 20 years; adding that their team consisted of star players; "I think the most important thing for the US team is they are a lot of young guys that are great players but have bought into the Ryder Cup. I think that was probably missing in previous generations. Guys like Justin Thomas, Jordan Spieth, the sort of heartbeat of that US team, they bought into the team aspect. Having guys like that on the team, they are going to be formidable opposition from now until I'm probably not playing Ryder Cups, whenever that is – in hopefully 20 years' time."
Europe's loss was not unexpected, as such things cannot be predicted, but how they lost was shocking at least. Going down in history with the worst defeat in an event is something nobody wants, but it just happens.
Both teams would face off again in Rome, Italy in 2023.
Leave a comment