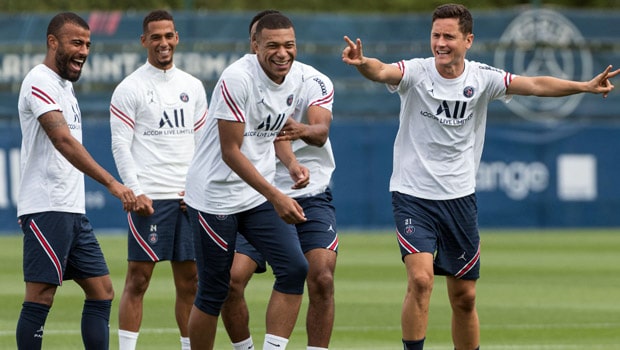 PSG midfielder, Ander Herrera has claimed that Neymar and Kylian Mbappe usually get along, saying there is no feud in between the pair.
It was obvious that Mbappe was frustrated at the Brazilian start at the end of the Montpellier match at the weekend.
Speaking ahead of tonight's Champions' League group stage tie against English champions, Manchester City, the Spaniard said the incident was blown out of proportion by the media.
While pointing that the cordial relationship between Neymar and Mbappe has been one of the strong things he observed since joining the club from Manchester United, the midfielder stated that nothing has changed between them, adding that everyone wants the best during matches.
Therefore since the team want to score goals, make assists, the former Manchester United midfielder said Neymar and Mbappe tease each other and joke about it.
However, when the team is under the pressure, Herrera admitted that things are sometimes taken out of context or blown out of proportion.
He, therefore, urged the media to share positive news when talking about PSG.
Speaking further on the special connection he had witnessed between the pair, Herrea said after the Saturday match, nothing has changed since.
While noting that every match comes with its chances, he said there will be where they need to fight. He added that Neymar and Mbappe are used to teasing each other,  but in the heat of the moment,  it might not work. In the end, there is a show of love.
He further revealed that PSG players laugh together.
The Spaniard said the Ligue club has a good squad, citing an instance where he had a little issue with Paredes,  and no one notices. He added that being that it's Neymar and Mbappé it's different.
Meanwhile, Lionel Messi is in contention to play in the Champions League clash, as he recovers from an injury. Neymar and Mbappe are espected to spearhead the attack, alongside Lionel Messi against the Etihad outfit.
The Ligue 1 giant had drawn their first game in the Champions' League Group against Club Brugge, while Manchester City won the 9 goals thriller against Leipzig.
Leave a comment