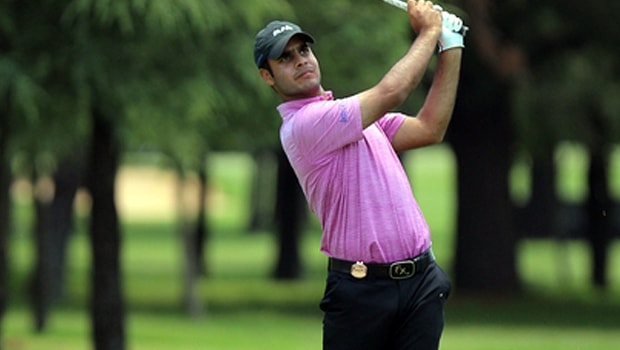 Shubhankar Sharma has claimed his first title on the European Tour after securing a three-shot victory in the weather-delayed Joburg Open on Monday.
The Indian had begun his final round with a five-shot lead in Johannesburg, but after seeing that advantage cut by a stroke on Sunday, he then faced a nervous overnight wait to complete his round, as storms brought play to a premature end.
Sharma still had 11 holes to complete when play resumed on Monday morning, but he held his nerve as he closed the tournament with a birdie and 10 pars to finish on 23-under – three strokes ahead of the chasing pack.
The 21-year-old was over the moon with his maiden triumph, particularly as he only made a late decision to participate in the tournament.
"It feels absolutely wonderful to have won this week," Sharma told the European Tour website.
"I actually wasn't going to come here about a week ago and I decided to come so I'm really happy that I came.
This is my first time in South Africa and I don't think I'm ever going forget my first time in South Africa."
South African Erik van Rooyen ended the tournament as Sharma's nearest rival on 20-under, while another home favourite, Shaun Norris, finished three shots further back alongside Finland's Tapio Pulkkanen.
Sharma, van Roooyen and Norris also secured the three Open Championship places that were up for grabs, meaning all three players will compete in the oldest Major Championship around when it gets underway at Carnoustie Golf Links next July.
Leave a comment