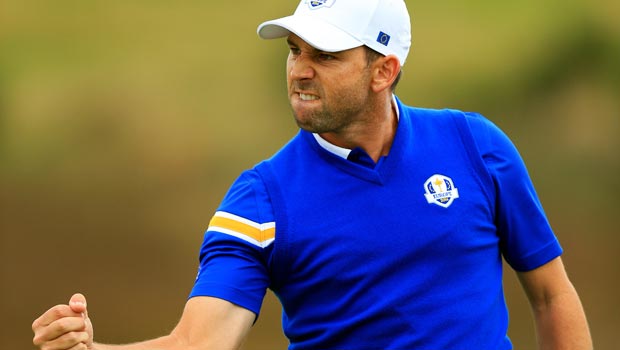 World number three Sergio Garcia is hoping he will be given the chance to captain Europe's Ryder Cup team in the future as he looks to follow in Paul McGinley's footsteps.
McGinley was lauded for masterminding a 16.5-11.5 success against USA at Gleneagles at the weekend and the praise came in stark contrast to open criticism from the outspoken Phil Mickelson about veteran Tom Watson's leadership qualities in the American camp.
Garcia, who won his singles contest against Jim Furyk and took his personal tally to 2.5 points, said he hoped one day he would be given the chance to lead a winning Ryder Cup team and was full of praise for McGinley.
The 34-year-old Spaniard said: "They say perfection doesn't exist, but if perfection doesn't exist then he has been as close as you can get to it.
"I think he has done a great job and I have learned a lot from him.
"Hopefully, one year, in the long-term future, I can bring some of his thoughts into my captaincy. It would be great, it was amazing."
Victory in Perthshire was Garcia's fifth in seven Ryder Cup appearances and the 11-time European Tour winner said the strong team ethic instilled by McGinley gave Europe the edge against their American rivals.
"We always have such amazing teams," he added. "The chemistry we have between us is just amazing.
"I just feel so honoured and proud to be part of it. I couldn't think of nicer teams to be around in the team room, not only the players but the captain and vice-captains, the wives, everybody."
Leave a comment