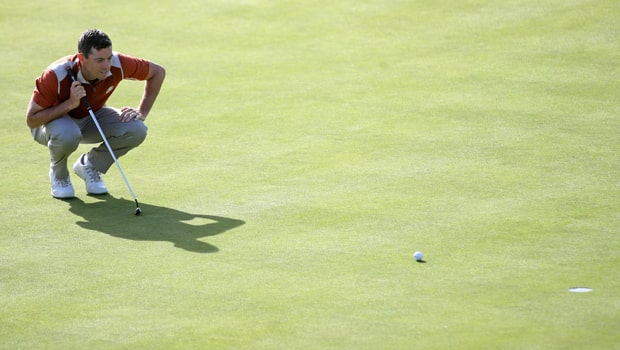 Rory McIlroy admits victory at next month's Open Championship in Royal Portrush would be the 'most special' success of his career, should he achieve it.
The four-time Major champion will tee up in his homeland as The Open returns to Portrush for the first since 1951.
It isn't something McIlroy every imagined he'd get the opportunity to do, but he's relishing the moment and he'll do everything he can to try and end his five-year Major drought in front of adoring public.
"There's nothing that I'd like more than to lift that Claret Jug in front of all my friends and family," McIlroy said.
"Would it be my most special win? 100 per cent. "I haven't tried to hide that fact that playing a major championship, basically at home, I didn't know if I'd ever have an opportunity to do that.
"It's going be a massive week for golf, for the country, for me personally, and I have to go out there with a good mindset and not let the occasion get the better of me, hopefully, produce some good golf and give myself a chance."
McIlroy has won the Players Championship and the Canadian Open already in 2019 during a hugely consistent start to the year, though he hasn't managed to truly challenge for a Major win, despite top-10 finishes at the PGA Championship and the US Open.
He highlights his Open Championship record since he won at Royal Liverpool in 2014 as a source of optimism going into Portrush. "I think it obviously will make it more special if I could win at Portrush but I just have to treat it like every other Open Championship that I've played the last few years," he added.
"Obviously I won in '14, missed '15 (due to injury), then I was top five in '16, top five in '17, and then second last year.
"So I haven't finished outside of the top five in an Open in a while, and I had a decent chance to win at Carnoustie last year." McIlroy is 9.50 to win the Claret Jug at Royal Portrush next month.
Leave a comment