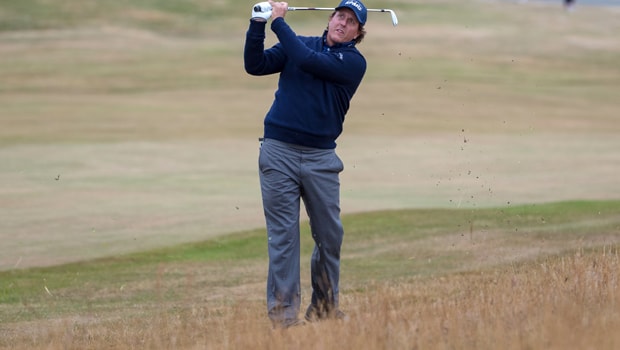 Phil Mickelson has finally opened up about the controversial rules infringement that engulfed him at last month's US Open.
During his third round at Shinnecock Hills, the American left-hander deliberately putted a moving ball in order to stop it running off the 13th green and into an unenviable position.
The USGA handed him a two-shot penalty at the time, though Mickelson admitted in a post-round interview that his actions were calculated, leading many to suggest he should have been disqualified from the season's second Major championship – as per the rules of golf.
At the Scottish Open in Gullane, Mickelson revealed his sense of regret at his 'dumb' actions and conceded the backlash that has come his way was fully merited.
"Regrets? Oh sure, I made a big mistake and I wish I could take it back, but I can't.
It wasn't a great moment and there's not much I can do about it now apart from just trying to act a little better," he told a press conference.
"Throughout my career of 25 years there has been a lot of times where I have had to be accountable for decisions I did not make and the reason why this has been easier is because it was my own fault.
The articles and the backlash is my own fault. You have to be accountable. I do a lot of dumb stuff."
He went on to hint that he perhaps should have been more pro-active after his round in atoning for his initial mental lapse.
"We all make mistakes and that was certainly one of them. Not only was I not great on the course I was not great after the round either. It was not a great day," added the five-time Major champion.
Mickelson is 34.00 to win his second Open Championship next week at Carnoustie.
Leave a comment